The Preservation of Remnant Native Oaks in Urban and Suburban Areas
I and others have recently received inquiries regarding cases of oak decline and death throughout Arlington County and the City of Alexandria, Virginia – oak species (Quercus spp.) being the dominant and characteristic trees of the upland landscape in both jurisdictions.
In all cases over the years, I have not seen any evidence of disease as the primary cause of decline or death, such as Sudden Oak Death, etc., but rather a combination of factors that are new to the greater region since the mid-20th century as a result of urbanization and changing values.
Water Tables
Most of the mature oaks we see in yards and along old neighborhoods and sections of cities are remnants of native forested areas dominated by upland oaks that were present and mature when the houses and streets were built.  Upland oaks can tolerate the successive periods of drought and heat likely associated with climate change, but they cannot tolerate significant water table drops and loss of groundwater infiltration around their root zones that result from the now-constant practices of digging, trenching, paving, over-building, burying underground utilities, etc., that are the hallmarks of our over-developed and highly fragmented suburbs and neighborhoods.
Climate Induced Effects of Drought
When one sees an oak with significant crown dieback or that is dead, almost always is evidence nearby of a recent curb or driveway paving, re-grading or re-contouring the ground near the roots, trenching into the root zone, chemicalizing of lawns, encroachment from infill construction (very little surface area is left for rainwater infiltration), etc.  In short, the climate-induced effects of drought are the knock-out blows in the death of the tree.  Consequently, these stressors make them susceptible to secondary effects such as the two-lined chestnut borer and various root rot organisms and canker diseases.     
Water Trees During Drought
Water trees during seasonal droughts – we're in one now and have been each summer, usually accompanied by record heat, since the late 1990s.  In effect, this recent pattern of summer and early fall drought has disrupted rainfall patterns, resulting in an approximation of a rainy season-dry season regime.  Whether or not this phenomenon is normal for the region or is an effect of climate change is unknown.
Leave Native Lawns in Place
It's also important to leave areas in one's yard where oak seedlings and saplings are left to mature, or as areas planted with stock from nearby trees.  Also, the care of "native lawns" will also greatly help sustain native oaks. Care of Native Lawns
It is crucial that we greatly amend and improve inadequate existing tree preservation regulations at the legislative level if we are to effectively retain our native oak-dominated canopy and old-age remnant trees throughout the region.  Otherwise, infill development will destroy most of them (take a drive along Williamsburg Blvd. and side streets in N. Arlington and see the recent and unnecessary losses of old-age Black, Southern Red, and White oaks – one healthy, giant Black Oak overhanging Williamsburg Blvd. was even in a "tree save area" and was still very recently cut down and stump-ground!).
The following frames from my presentation "How Ecology Influences How Trees Are Doing" for the MAC-ISA Annual Meeting in October 2013 attempt to illustrate the environmental stressors on remnant oaks in urban landscapes: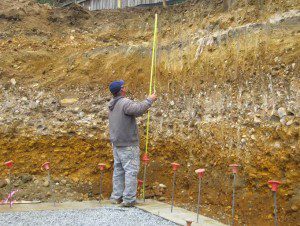 Extensive construction and infill practices in urban areas severely fragment aquifers and lower natural water tables, creating virtual deserts and greatly reduced groundwater reserves for existing trees and vegetation.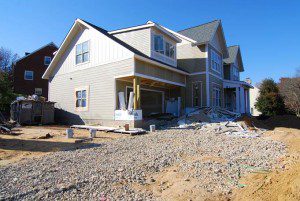 Modern construction practices unnecessarily ruin existing soils by using much of the site as a staging area, importing large amounts of artificial and non-biodegradable material, burying construction debris and refuse on site, compacting soils, and destroying beneficial soil microorganisms.
Greg Zell, retired Arlington County Natural Resource Manager: "We have a series of environmental stressors occurring simultaneously in our local region, namely an increasing loss of ground water reserves (more impervious surface, less infiltration, lower water table) coupled with an artificial 'heat island' effect created by more development and canopy loss.  These stressors alone are enough to 'mimic' global warming.  Any measurable effects due to climate change would add to these problems.  In addition, large trees (particularly during leaf season) are much more vulnerable to wind damage as a result of forest fragmentation and increased direct exposure to full force winds.  Add to that the fact that a majority of our urban soils, with the exception of small intact forests, are highly disturbed with little organic material remaining."  
Tony Fleming, Licensed Professional Geologist: "Local environmental change is a well-documented culprit in plant and animal mortality, and it comes in a variety of packages, large and small.  To my thinking, the most pervasive form of local environmental change is deforestation and urbanization: the Washington metropolitan area probably has considerably fewer forested areas now than 50 or 100 years ago.
Regional deforestation creates a hotter, drier, and more wind-prone microclimate, not to mention less overall soil moisture availability as forested areas are converted to urban land cover.  For the large trees that remain, the cumulative effect of all these local environmental changes amounts to death by 1,000 cuts.
Any nominal effect caused thus far by 'global warming' (probably less than one degree F average temp rise in the Mid Atlantic over the last century, depending on whose data you use) pales in comparison to the tens of degrees of well documented 'regional warming' that routinely occurs via the urban heat island effect during the growing season.  Here is an infrared image of the D.C. area on a typical summer evening–22 years ago!  It speaks for itself."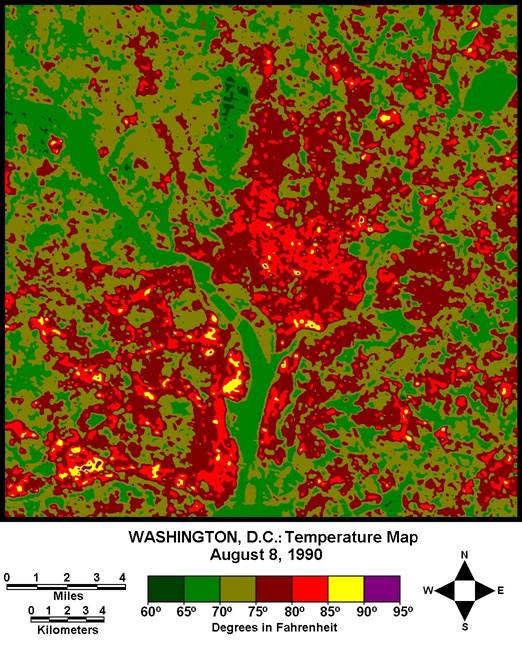 Old-age White Oak (Quercus alba) trees at the historic Alcova estate in Arlington County, Virginia exhibiting signs of severe crown dieback – likely the result of a fragmented and greatly diminished water table, numerous, consecutive years of extreme drought and heat, and possible damage to the root systems.  
Rod Simmons
All photos by author
More on Native Lawn Care and Oaks: 
https://vnps.org/best-management-practices-for-lawn-care/#