Butterfly-weed (Asclepias tuberosa) is a great garden choice for pollinators!
The VNPS Annual Meeting has been rescheduled for the weekend of October 5-7 in Williamsburg at William & Mary!  As you know, our early September meeting was canceled due to Hurricane Florence. Organizers are busy rebuilding the conference session schedule and expect to have it finalized in a few days.
Registration will reopen on September 24.
William & Mary awards student sponsorships for the VNPS Annual Meeting
The W&M Committee on Sustainability Green Fee Grant will sponsor at least 20 W&M students, allowing them to attend the VNPS conference at no cost.
The 2018 conference will offer an opportunity for W&M students who have an interest in sustainability and protecting the natural world to network with like-minded nonprofits and agencies and to highlight their sustainability work at the university.  [more…]
↓ SCROLL DOWN TO SEE OUR BLOG ↓
Recent Blog Posts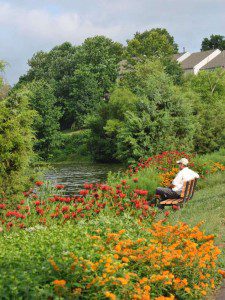 "If you plant it they will come," to paraphrase a line from the iconic Kevin Costner film, "Field of Dreams." That was the hope of John Magee,  former Horticulture Chair of the Virginia Native Plant Society. John's firm, Magee Design, partnered with Ashburn... read more
Get Involved in the Virginia Native Plant Society!
Click any image to see a larger version.