2020 Annual Meeting
September 25 at 7pm
2020 Annual Meeting
September 25 at 7pm
2020 Annual Meeting
September 25 at 7pm
Tiger Swallowtail on WIld Bergamot at Shenandoah National Park - Photo by Nancy Vehrs
Early Explorations of
Elephant Ears
(Magnolia macrophylla)
Early Explorations of
Elephant Ears
(Magnolia macrophylla)
Early Explorations of
Elephant Ears
(Magnolia macrophylla)
2020 Wildflower of the Year: Wild Geranium (Geranium maculatum)
2020 Wildflower of the Year: Wild Geranium (Geranium maculatum)
2020 Wildflower of the Year: Wild Geranium (Geranium maculatum)
Mountains with Flame Azaleas
Mountains with Flame Azaleas
Mountains with Flame Azaleas
News & Updates
• VNPS Guidance for Walks and in In-Person Events during the COVID-19 Pandemic.
• Wildflower of the Week #22: In the Mint family with squarish heads of packed purple flowers? See a photo and last week's answer.
• Piedmont Wildflower of the Week #21: Can you identify a member of the Bellflower family with thick spires of violet-blue? See a photo and last week's answer.
• Piedmont Wildflower of the Week #19: What wispy grass lends a purple haze to a whole field when blooming? See a photo and last week's answer. 8/21/2020
• The (Northern) Piedmont Native Plants guide is back in stock. Check out all the regional native plant guides available for download and print copy purchase. 8/17/2020
• Piedmont Wildflower of the Week #18: A yellow flower in the bean family, tall patches in meadows, pods turn black in fall. Do you know the name?  8/15/2020
• Piedmont Chapter Wildflower of the Week #17: Evergreen leaves, silvery veins, tiny hairs cover the flowers. What is it? 8/9/2020
• Passionflower Pops in Summer: Read Betsy Washington's new blog post from the Northern Neck. 7/30/2020
• Piedmont Wildflower of the Week: What is this fragrant member of the Onograceae family that shines best at sunset? 7/25/2020
• New Video: Marion Lobstein and Sally Anderson present an Overview and How To on the Flora of Virginia Mobile App. 7/13/2020
• The Atlantic Coast Pipeline project has been canceled. See more about opposition to the project and the VNPS Resolution opposing the project. 7/5/2020
• VNPS Guidance for Walks/Events during the COVID-19 Pandemic. The health and safety of our members is very important to us. Time out-of-doors is part of a healthy lifestyle both physically and mentally. However, during this COVID-19 pandemic, we must be mindful of the importance of social distancing to minimize the spread of the disease. For example, during regular guided native plant or botanical walks, participants often gather around a specific plant as the leader discusses it. Therefore, we recommend erring on the side of caution and suspending guided group walks until health conditions in your area permit such gatherings. Please follow the recommendations of the CDC and the Virginia Department of Health.
While we will leave the decision to chapter leaders about holding walks, the VNPS suggests virtual or self-guided walks and events in the interim. For example, some chapters have flagged walks, virtual walks, Zoom presentations, flower of the week emails, and more to engage the public. 6/10/2020
• The Summer 2020 edition of Sempervirens is now online. Read about the pandemic's challenges and changes for the Natural Heritage Program and for VNPS events and activities, and how nature offers solace for us all. Meet our Conservation Chair Alex Fisher and learn about the autecology of Wild Geranium by Botany Chair John Hayden. 5/22/2020
• The First 10 Years of VNPS: How We Began. This account of VNPS and Potowmack Chapter beginnings shows that volunteers can make a difference with knowledgeable leaders, willing associates and continuity of purpose. 5/12/20
• Pinxterblooms: Performing Now! Read Betsy Washington's latest blog post. 4-23-20
• 25 Years of the VNPS Bulletin Are Now Online. We just added almost all issues of the Bulletin from 1989 to 2009 thanks to the Internet Archive. Be sure to browse our updated Bulletin Archive. 4/18/20
• Due to CDC recommendations and other ongoing closures related to the Coronavirus outbreak, we have cancelled the March 14, 2020 event 'Earth's Climate: Present, Past & Future'.  We regret having to make this decision, and hope to be able to offer this program at another time. We will refund registration fees. [More information] 3/11/2020
• The Spring 2020 edition of Sempervirens is now available. Read about our upcoming Annual Meeting in Abingdon, the VNPS Mission, and more. 3/3/2020
• An updated version of the popular Wildflowers for Butterfly Gardens brochure is now available to download. 2/19/2020
• VNPS Funded Research Reveals Which Trees are Dying and Why. 12/29/2019
• Piedmont Chapter Curlyheads Flower T-Shirts are now available for sale! These are beautiful shirts though in limited quantities. 10/24/2019
• VNPS Member Harry Glasgow Honored by Prince William Conservation Alliance.
• The VNPS mourns the loss of its founder, Mary Painter, on October 6, 2019. View more information and Mary's obituary.
• Support our Annual Fundraiser: Plant Virginia Natives!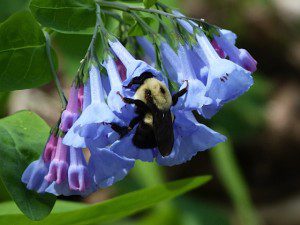 April is perhaps the very best month in Virginia to catch a sight of these extraordinary flowers that grace the landscape for such a brief time. To be ephemeral is to be short-lived, fleeting, brief. Bluebells, merrybells, Dutchman's breeches, squirrel corn, trilliums, lady slipper orchids, bloodroot, hepatica, trout lily, twinleaf and toothwort; even their names… [Read More]