Botanical Virginia: Exhibits, Talks, Workshop
Date/Time
Saturday, December 5, 2015
All Day
Location
Jamestown Settlement
Categories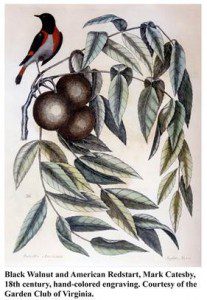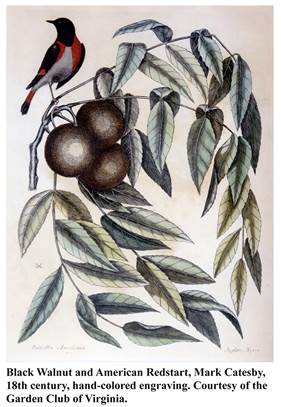 The beauty and variety of Virginia plant life is showcased in a three-month exhibit opening December 5 at Jamestown Settlement, a state-operated museum of 17th-century Virginia.  "Clayton & Catesby: Botanical Virginia" explores documentation of native plants by naturalist Mark Catesby and botanist John Clayton in the 18th century and the Flora of Virginia Project in the 21st century. There is a fee to enter this museum: Fee schedule  .
~Scroll to bottom for list of talks and workshops, lectures are free with admission, some workshops have additional fees~
Seventeen period hand-colored engravings created from Catesby's watercolor paintings of American flora and fauna, on loan from the Garden Club of Virginia, will be exhibited alongside a 1762 edition of "Flora Virginica," based on Clayton's work.  The exhibit, which is curated by the Flora of Virginia Project, also will include tools used for studying and collecting plants, and biographies of Catesby and Clayton.
Seven public programs related to the "Botanical Virginia" theme will be presented during the period of the exhibit, December 5, 2015, to February 28, 2016:  lectures at 4:30 p.m. December 10, January 5 and 19, and February 2; and workshops from 10 a.m. to 2 p.m. on January 14 and 28 and February 25.
During seven years in Virginia, from 1712 to 1719, Englishman Mark Catesby collected plants from the region of the lower James River to the river's headwaters in the Appalachian Mountains.  He returned to America in 1722 and continued his work for four more years, collecting and drawing plants and animals from the more southeastern reaches of North America and the Bahamas.  Back in England in 1726, he began producing engravings of his watercolors, later published in "The Natural History of Carolina, Florida, and the Bahama Islands."
A contemporary of Catesby, John Clayton was born in England and by 1720 was serving as the clerk of Gloucester County, Virginia.  Clayton, a student of botany, provided Catesby and John Frederick Gronovius with dried plant specimens and compiled a catalog of plants native to Virginia.  Gronovius, of the Netherlands, published Clayton's work in "Flora Virginica" in two volumes, in 1739 and 1743.  This and a second, 1762, edition were the first and, for more than two centuries, the only published compilations of Virginia's native plants.
The Flora of Virginia Project, begun in 2001, resulted in the publication of "Flora of Virginia" in 2012, describing 3,164 plant species and containing 1,400 original illustrations.  The project continues with a focus on education and outreach, including a partnership with the Jamestown-Yorktown Foundation, the Virginia state agency that operates Jamestown Settlement, in presenting "Clayton & Catesby: Botanical Virginia."
Jamestown Settlement, located at State Route 31 and the Colonial Parkway (2110 Jamestown Road), is open 9 a.m. to 5 p.m. daily.  The museum features an introductory film, expansive exhibition galleries that chronicle the  nation's 17th-century beginnings in Virginia in the context of its Powhatan Indian, English and west central African cultures, and historical interpretation at outdoor re-creations of a Powhatan village, the three ships that brought America's first permanent English colonists to Virginia in 1607, and a colonial fort.  Admission is $16.75 for adults ($17.00 in 2016) and $7.75 for ages 6 through 12 ($8.00 in 2016).
For more information, visit www.historyisfun.org or call (888) 593-4682 toll-free or (757) 253-4838.
Public Programs Reflect 'Botanical Virginia' Theme
Lectures at 4:30 p.m. in Jamestown Settlement's Robins Foundation Theater are free with museum admission:
Thursday, December 10 – "Fantastic Voyages: Plants of the Virginia Colony," presented by Marion Blois Lobstein, contributor to "Flora of Virginia"
Tuesday, January 5 – "Illustrating the 'Flora of Virginia'," presented by Lara Call Gastinger, lead illustrator of "Flora of Virginia"
Tuesday, January 19 – "From Clayton's 'Flora Virginica' to the Late 20th Century," presented by Dr. Donna M.E. Ware, College of William and Mary research associate professor of biology and curator emerita
Tuesday, February 2 – "Wildflowers and Grasses on Virginia's Coastal Plain," presented by Helen Hamilton, John Clayton Chapter of Virginia Native Plant Society past president
Advance reservations are required for the 10 a.m. to 2 p.m. workshops:
Thursday, January 14 – "Learning to Use Pen to Illustrate the 'Flora of Virginia'," instructed by Lara Call Gastinger
Thursday, January 28 – "Nature Journaling," instructed by Betty Gatewood, Shenandoah National Park education and interpretive ranger
Thursday, February 25 – "Naked Tree Walk," presented by Dr. Stewart Ware, College of William and Mary professor of biology emeritus
Workshop registration is available online at www.historyisfun.org or by calling (757) 253-4939.  The $45 per workshop fee includes lunch.  Members of Jamestown-Yorktown Foundation, Inc., Annual Fund gift clubs (donors of $100 or more) receive a discount and can call (757) 253-4139 or email giving@jyf.virginia.gov for a code to use in online registration.  Workshops start in Jamestown Settlement's Robert V. Hatcher, Jr., Rotunda.
Download
iCal
file