Abrams Creek Wetlands Saturday Morning Sunday Morning
The Abrams Creek Wetlands are home to a number of rare plant species and ecological communities, and they are a distinctive wetland site in the Shenandoah Valley. The wetlands encompass nearly 60 acres that have been an area of interest to the Virginia Natural Heritage Program (VNHP) since 1980, when ecologists made the first of several visits. Since 1998 Shenandoah University faculty and staff in the Environmental Studies Program have been studying this site in collaboration with the VNHP. In October 2003, Winchester established the 25 acre Abrams Creek Wetlands Preserve. Our leader will show us the special features of the preserve and tell us about the past and ongoing studies of the plants that inhabit the Wetlands. Easy walk, mostly on paved surface, although seeing some plants may require stepping off into moist areas or higher vegetation.
Led by former Shenandoah University student Ashley Landes, who has been active for years in the study and care of the Preserve.

---
Bear Wallow Saturday Morning
Walk near the Bear Wallow parking lot near Massanutten Mountain, part of the George Washington National Forest. This area offers a variety of terrain, varying from dry and sandy habitat to a stream passing through a peat bog. It has many interesting plants and fungi.
Led by Richard Stromberg, a member of the Piedmont Chapter of the VNPS with an extensive history as a hike leader and newsletter editor both for Piedmont Chapter and the Potomac Appalachian Trail Club. He helped start up the Shenandoah Chapter of Virginia Master Naturalists.

---
Bull Run Mountains—A Natural History Sunday Morning
Tour the Bull Run Mountains Natural Area Preserve, not usually open to the public, to enjoy the autumn landscape. While most flowers will be gone, you will see many fungi and non-flowering plants and observe how plants prepare for winter.
Led by Michael Kieffer, Executive Director of the Bull Run Mountains Conservancy.

---
Clifton Institute Saturday Afternoon
The Clifton Institute is a living study and outdoor classroom of the ecology of 900 acres of Clifton Farm in the northern Virginia Piedmont. Tour a mosaic of different habitat types (upland forest, meadow, shrub field, wetland, vernal pool, stream, and pond), each of which is home to a different community of plants and animals. See restoration projects in different stages, including one of the richest native meadows in the region.
Co-led by Bert and Eleanor Harris, Executive and Managing Directors, respectively, of the Clifton Institute. The Harrises have PhD's in different aspects of biology and have done extensive research in ecology, also teaching at local universities.

---
Compton Peak Sunday Morning
Led by Sally Anderson, an expert botanist, past president of VNPS, and a director of the Flora of Virginia project.

---
Digital Journaling Sunday Morning
The program includes discussions on digital photography, GPS, and how the computer and the Internet have enhanced the ability to identify species and to share and look up journal entries. Examples will be Android-based but IOS (Apple) users should be able to find the same tools.
Led by Richard Stromberg, a member of Piedmont Chapter of the VNPS and Newsletter Editor both for Piedmont Chapter and the Potomac Appalachian Trail Club. He is a celebrated flower photographer.
---
Drawing Wildflowers and Nature Journaling Sunday Morning
Approximately one hour of lecture and exercises will be followed by a guided outdoor excursion. Drawing materials will be available, but participants may wish to bring their own. Sketch pads, pencils, pens, colored pencils and watercolors will be discussed. Beginners are welcome, as well as more experienced artists.
Led by artist Susan Sharpe, who has been teaching drawing and painting since her retirement in 2006. Her work, mainly landscape painting, has been shown at galleries in Middleburg and The Plains.
LOCATION: Blandy Community Classroom

---
Endangered Pollinators Saturday Morning
In this workshop we will focus on monarchs—their biology, life cycle and population status—and on the great varieties of other critically threatened pollinators, the reasons for their decline and the importance of native plants to their survival. A walk through Blandy's pollination garden, the native plant trail, and community garden will follow a presentation and discussion.
Led by Marie Majarov, a Virginia Master Naturalist, freelance photographer and writer. Marie is active with the Outdoor Writers Association of America and has won numerous awards for both her photography and writing. She worked many years with the late Dr. Lincoln Brower, the world-renowned entomologist. Her article, Grassroots: A story of Virginia's Working Landscapes, was published in the March/April 2019 issue of Virginia Wildlife.

---
Engaging Kids & Nature Saturday Afternoon
Learn native plant and botany-focused activities and strategies for engaging youth and families in outdoor learning experiences. Participants will model activities and receive tools and activities to use at their own native plant walks and programs.
Co-led by Candace Lutzow-Felling, Blandy Experimental Farm's Director of Education, and Emily Ford, Blandy's Lead Environmental Educator.
LOCATION: Blandy Parkhill Building

---
Forest Mushrooms Sunday Morning
Explore the hardwood forest of Shenandoah River State Park, finding and identifying mushrooms living there. This is an easy walk.
Led by Penny Firth, a Virginia Master Naturalist and retired General Natural Resources Manager and Biological Scientist at the National Science Foundation.

---
Gravel Springs Gap Saturday Afternoon
Explore the different habitats of this botanically rich trail and learn about Shenandoah National Park's ginseng protection program. The one-half mile loop trail is mostly gentle with some short, very steep places.
Led by Wendy Cass, Botanist at Shenandoah National Park since 1997. She manages the Park's forest vegetation monitoring program and is involved in projects to monitor and protect rare plant species and communities throughout the Park. Her duties include assisting outside scientists and NPS staff with botanical issues, managing a team of summer technicians, performing environmental compliance work, and helping manage the Park's Natural Resources Volunteer Program.

---
Great Photos with Your Phone Saturday Morning
Learn how to take great photos with your phone camera. Do you get frustrated with the pictures you get from your phone? You can take fabulous images with just a few tips and apps. No need to understand camera exposure—just learn to use your finger to make adjustments. Following the presentation, you will venture out to try what you've learned.
Led by Joyce Harman, an award-winning art and nature photographer, Virginia Master Naturalist and volunteer in Shenandoah National Park. Her work is on exhibit at the Old Rag Gallery in Sperryville.
LOCATION: Blandy Library
---
Hawksbill-Crescent Rocks Saturday All Day
Explore rare, high-elevation habitats in the Hawksbill-Crescent Rocks area. At an elevation of 4,050 feet, this is the highest peak of Shenandoah National Park. See examples of high-elevation greenstone barrens and non-vascular boulder fields, boulder field woodlands, rich cove forests, northern hardwood forests and numerous vascular plants, lichens, and bryophytes that are rare and restricted. This 3 mile hike is moderately strenuous, over rocks and uneven ground, and may include a portion off-trail.
Co-led by Gary Fleming, Vegetation Ecologist, and John F. Townsend, Staff Botanist, of the Virginia Department of Conservation and Recreation, Division of Natural Heritage. Gary was part of a team that conducted a two year long inventory of the rock outcrops in Shenandoah National Park. He is also a gifted photographer. John is a co-author of the Flora of Virginia.
---
Jeremy's Run Saturday Morning
Enjoy the special beauty of Shenandoah National park with an active woodland hike. The trail starts at Skyline Drive and crisscrosses Jeremy's Run, a tributary of the Shenandoah River, multiple times. The trail provides a particularly lovely setting and a nice selection of forest flora. This is an easy hike with only moderate elevation change but hiking poles are advised for fording the creek on stepping stones.
Led by Marjorie Prochaska, past President of the Piedmont Chapter of the VNPS. Marjorie has a degree in biology and currently volunteers at the Smithsonian in the Entomology Department. Always loving nature, she has been an avid rock climber and is still an active hiker. Marjorie is also a Virginia Master Naturalist and a long-time member of the Potomac Appalachian Trail Club.

---
Jones Nature Preserve Saturday MorningSunday Morning
Tour this wildlife friendly property with Bruce Jones, a former Piedmont Chapter director who has established grasslands, hedgerows and shrub thickets, provided snags, logs and nest boxes, and planted pollinator plots on his 75 acre farm. See Bruce's use of the federal Conservation Reserve Enhancement (CREP) and Wildlife Habitat Incentives (WHIP) Programs to improve habitat. Learn about studies done by the Virginia Working Landscapes program and see Bruce's successful pink lady slipper propagation. Entomologist Nate Erwin will accompany the walk. Moderate walk on mostly level, grassy terrain.
Led by Bruce Jones. Accompanied by Nate Irwin.

---
Medicinal & Edible Plants Sunday Morning
Learn about colonial uses of herbs and native plants with examples passed around to identify. Also hear a bit of history: Culpeper's Herbal, why plantain is called "white man's footstep", a bit about the dandelion's history and use through the ages, and a discussion of "native" vs. "naturalized."
LOCATION: Blandy Parkfield Building

---
The Mushroom Kingdom Saturday Morning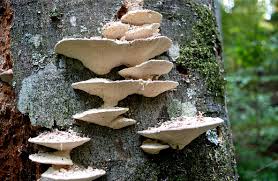 Learn about mushrooms, the least studied living kingdom. They play an important role in the ecosystem and in human culture where mushrooms have been used for food, medicines and dyes. Beautiful slides of exotic-looking species will be presented. Bring mushrooms from home to identify.
Led by Ann and Rob Simpson, Professors of Biology at Lord Fairfax Community College. The Simpsons are co-authors of several books, including a series of wildflower books for the National Parks. They were recognized in 2015 by the Outdoor Writers Association for excellence in outdoor communication, and are co-authors of the Nature Guide to Shenandoah National Park.
---
North Marshall Peak Saturday Morning
Hike up North Marshall peak in Shenandoah National Park's Northern District. The hike will be out and back, one-half mile each way, with an elevation gain of 400 feet on the way out. The destination is an outcrop with great views. Steve will discuss the Park's Rock Outcrop Management Plan and plants along the way. The hike is considered moderate because of elevation gain and rocky uneven footing.
Led by Steve Paull, Lead Biological Science Technician for the botany program at Shenandoah National Park and formerly the Rock Outcrop Management Plan Coordinator at the Park.

---
Ogdens Cave Sunday Morning
Tour Ogdens Cave Natural Area Preserve in Frederick County. The cave seems perfectly isolated from the farmlands above. Light only reaches in a few yards and, at times, a stream near the entrance rises to the low ceiling to completely close off the passage. Yet the cave is home to diverse wildlife, including five rare species: two amphipods, an isopod, a springsnail and a beetle.
Led by Tyler Urgo, an avid outdoorsman and a Regional Land Steward with the Virginia Department of Conservation and Recreation. His duties cover the management of Virginia's nine Natural Area Preserves in the Shenandoah Valley Region.

---
Plant Families Saturday Afternoon
Recognizing the characteristics of major families of flowering plants can be an important step and shortcut in identifying your plant specimens with the Flora of Virginia and with the graphic key of the Flora of Virginia App. Join Marion Lobstein to learn some easy ways to recognize the "gestalt" or intuitive recognition of the members of major plant families. If you have the Flora of Virginia and your Mobile Flora of Virginia App, you are encouraged to bring those resources to the workshop.
Led by Marion Lobstein, Professor Emeritus of Northern Virginia Community College, vice president of the Foundation of the Flora of Virginia Project, and a life member of VNPS and Foundation of the State Arboretum.
---
Seed Propagation WorkshopSaturday Afternoon
Ever want to try your hand at growing native plants from seed? This workshop will help you understand the requirements for starting your own natives. Learn about collecting, cleaning and storing seed, what stratification is and how to do it, and learn about soils and how best to plant and tend your seeds.
Led by Kim Strader, Volunteer Coordinator for Loudoun Wildlife Conservancy who just recently retired after 20 years as the Assistant Curator for Blandy Experimental Farm's Native Plant Trail.
LOCATION: Blandy Community Classroom

---
The Seep at Thompson Wildlife Management Area Saturday Morning
Journey into the rare habitat within an upland forest seep in the G. Richard Thompson Wildlife Management Area (WMA). The cool microclimate of this feature, called a Central Appalachian basic seepage swamp, supports a number of plant species normally seen in the north, including Black Ash (Fraxinus nigra). Prepare for some bushwhacking and muddy conditions to see this exceptional area.
Led by Ron Hughes, a wildlife biologist for the Department of Game and Inland Fisheries . The Thompson WMA is one of the 18 WMAs under his management. He is a board member of the Piedmont Chapter of the VNPS and is a Master Naturalist. Ron grew up in the countryside exploring nature and has worked in wildlife research in five different states.

---
Sky Meadows Outdoor Learning LabSaturday Afternoon
Explore a 76 acre area within Sky Meadows State Park used by Master Naturalists and park volunteers for botany training, monitoring vernal pools and bluebird boxes, and educating park visitors. The area includes pollinator plots and a trail for visually impaired visitors.
Led by Alex Newhart, a retired scientist who worked in entomology, biochemistry, and physiology and a Virginia Master Naturalist.

---
Skyline Drive Car Safari Saturday Afternoon Sunday Morning
Cruise along a 24 mile caravan trip through Skyline Drive, featuring easy walking on flat, roadside terrain. Beginning at Dickey Ridge, several stops will be made to observe beautiful vistas and roadside flora, and to discuss the geology that makes this area unique. The tour culminates at Elk Wallow Wayside.
Co-led by Marion Lobstein and Sara Dydak. Marion is Professor Emeritus of Northern Virginia Community College, vice president of the Foundation of the Flora of Virginia Project, and a life member of VNPS and Foundation of the State Arboretum. Sara is a Virginia Master Naturalist and educator with a background in geology who has been leading geology field trips in Shenandoah National Park over the past few years.

---
Smithsonian Conservation Biology Institute Exclosure Tour Saturday Afternoon
The Smithsonian Conservation Biology Institute (SCBI) is a leader in the global effort to save wildlife species from extinction and train future generations of conservationists. This tour explores the Institute's forest plot where long term forest changes are being studied.
Led by Krista Anderson, a researcher at SCBI.

---
Smithsonian Conservation Biology Institute Driving Tour Saturday Morning
The Smithsonian Conservation Biology Institute (SCBI) is a leader in the global effort to save wildlife species from extinction and train future generations of conservationists. This tour includes a 3 hour driving excursion of the property, visiting the Virginia Working Landscapes demonstration ecology plots, an American Chestnut breeding orchard, and homes of cheetahs, Przewalski's horses, Addra gazelles, Hartmann's mountain zebra, Scimitar-horned oryx, Eld's deer, and Red Crowned and Whooping cranes.
Led by Smithsonian staff and volunteer docent Sally Cunningham.

---
Stony Man-Passamaquoddy Saturday All Day
Climb Stony Man outcrop, at 4,011 feet, the second highest peak in Shenandoah National Park. The summit is a high elevation greenstone barren that includes arboreal species unusual in Virginia. The path leading to the peak contains a rich variety of forest species and some of the oldest exposed rock in America. This is a 1.5 mile round trip. The trail is rocky and gently climbing. After a picnic lunch, we will hike the Passamaquaddy loop trail.
The morning portion will led by Cathy Mayes, the outcrop monitor for Stony Man outcrop for 10 years. She is a member of the board of VNPS, a Master Naturalist, and a director of The American Chestnut Foundation. The afternoon portion will be led by Sally Anderson, an expert botanist, past president of VNPS, and director of the Flora of Virginia project.

---
Trees at Thompson Wildlife Management Area Saturday Afternoon Sunday Morning
Cure "tree blindness" as you explore large, native trees within an Appalachian Rich Cove Forest at the G. Richard Thompson Wildlife Management Area, the original Wildlife Management Area (WMA) and a Piedmont Chapter Registry Site. Located on Blue Mountain, it is probably the best example of this community type in Virginia and is unmatched in herbaceous diversity throughout the growing season.
Led by tree expert and past Piedmont Chapter President, Carrie Blair. Carrie's extensive knowledge of tree identification was gained as a Front Royal/Warren County Tree Steward, Master Naturalist, docent at the Arboretum of Virginia, and an inveterate explorer of the local woodlands for many years.
---
Virginia Working Landscapes at Oxbow Saturday Afternoon
Visit Oxbow Farm, a privately owned property that integrates conservation management with agriculture, from established native warm-season grass stands to hay fields managed for plants, birds and pollinators, including an example of a grassland plant survey. Explore plant communities in wetland and forested habitats, including a demonstration of Virginia Working Landscapes' surveys for forest orchids. Wear waterproof shoes or boots.
Led by Joseph Guthrie, Survey Coordinator, Virginia Working Landscapes, Smithsonian Conservation Biology Institute.

---
Wildcat Mountain Natural Area Saturday All Day
This field trip includes sites of special botanical interest within the The Nature Conservancy's 699 acre Wildcat Mountain Natural Area in Fauquier County's inner Piedmont. This is an area of natural beauty and good botany, predominantly oak hickory forest communities, with altitude ranges between 500 and 1200 feet. As a geological monadnock of basic rock, its vegetation is more allied with the Blue Ridge than that of the surrounding Piedmont. Numerous exposures of weathered, Precambrian greenstone (Catoctin metabasalt) occur throughout. Humus-filled crevices provide footholds for many specialized and rock-loving species. The preserve has been temporarily closed to public access but is open to us by special permission.
Led by Emily Southgate, a Senior Scholar at Hood College, where she primarily teaches graduate level field courses. She has done extensive research in historical ecology. The second edition of her book, People and the Land through Time, will be published in September, 2019. Emily also regularly leads botany walks for VNPS. Accompanied by Jocelyn Sladen, a resident of Wildcat Mountain, founding member of VNPS and long time member of the Piedmont Chapter. Jocelyn has explored the mountain's woodlands since childhood.