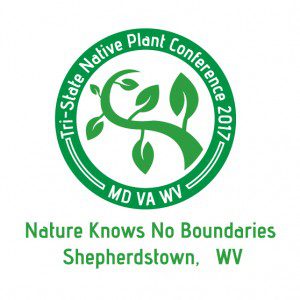 Mark your calendar for September 29 – October 1, 2017. The Virginia Native Plant Society, the Maryland Native Plant Society, and the West Virginia Native Plant Society are joining together to host the 2017 Native Plant Conference at the National Conservation Training Center in Shepherdstown, WV!
We would like to invite you to stay informed about evolving plans for talks, walks, and workshops, and also to help us know what you are most interested in. We don't have an option for changing the label on the button; it says Register, but it means "stay informed."
We'll send  more information about the conference as it becomes available, and an email when registration opens. This only indicates your interest and does not actually register you or commit you to attend. We welcome your suggestions for workshops and field trips.   ~REGISTER ~
Preliminary Outline:
Friday, September 29, 2017
Afternoon field trips, invasive removals and workshops
Evening speaker – Wesley Knapp, Western Regional Ecologist/Botanist, NC Natural Heritage Dept.
Evening social and bonfire
Saturday, September 30, 2017
Half-day & full-day field trips
Half-day workshops
Evening speaker, Rodney Bartgis, formerly with The Nature Conservancy, and both the VA and MD Natural Heritage Programs
Evening social and bonfire
Sunday, October 1, 2017
Half-day field trips
Half-day workshops
Preliminary Field Trip locations include:
Snavely's Ford Trail, Antietam National Battlefield, (Historical Tour, and Botanical Tour), Cranesville Swamp, Shanondale Wildlife Management Area, Yankauer Preserve, Ferry Hill, Fern Walks, Taylor's Landing, Historic Antietam, Appalachian Trail, Catoctin Mountain, Cool Spring Preserve, Blue Ridge Center for Environmental Stewardship, Snyder's Landing, Loudoun Heights,  Short Hill-Virginia portion of Harpers Ferry National Historical Park, Ice Mountain, Green Briar State Park, and tours of the NCTC grounds focused on: Trees, Grasss, and Native Plant Communities
Workshops so far:
Designing Your Garden With Native Plant Communities, Vince Vizachero, NativEcology.com
Maintaining a Field Journal Sketchbook, Lara Call Gastinger, Illustrator of the Flora of Virginia
iNaturalist, Laura Sebastianelli
Tree ID, this will be a walk on the Shepherd Campus combined with a Lab session, Rodney Dever and Mark Lesser
Plus plenty to do in Charming Shepherdstown for non-plant persons: Independent Bookstore, Cycling and Kayaking, restuarants. shopping, yoga, antiques, and more!
Accommodations: The NCTC has very nice single and double (limited availability) rooms. If you stay on campus, all meals from Friday dinner through Sunday lunch will be provided. Nightly lodging and meals will be approximately $150/night.
Off campus housing is available in nearby hotels (approx. $100/night). Those staying off campus must either provide their own meals or purchase meals a la carte. Some indoor venues within the NCTC do not allow outside food.