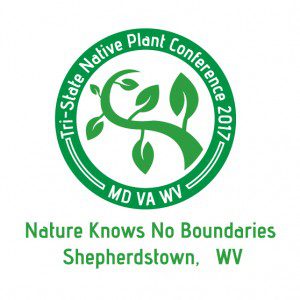 Mark your calendar for September 29 – October 1, 2017. The Virginia Native Plant Society, the Maryland Native Plant Society, and the West Virginia Native Plant Society are joining together to host the 2017 Native Plant Conference at the National Conservation Training Center in Shepherdstown, WV!
We would like to invite you to stay informed about evolving plans for talks, walks, and workshops, and also to help us know what you are most interested in. We don't have an option for changing the label on the button; it says Register, but it means "stay informed."
We'll send  more information about the conference as it becomes available, and an email when registration opens. This only indicates your interest and does not actually register you or commit you to attend. We welcome your suggestions for workshops and field trips.   ~REGISTER ~
Schedule of Events – Click here for List of Trips and Workshops
Friday, September 29th

Meet and Greet, Poster Sessions, Registration

Invasive Removal Party on NCTC grounds, followed by walk by Grounds Manager
Evening Speaker: Wesley Knapp, Western Regional Ecologist NC Natural Heritage Department
Evening Social Bonfire with Music
Saturday, September 30th
Half Day and Full Day Field Trips and Workshops

Evening Speaker: Rodney Bartgis, formerly with The Nature Conservancy as well as both the VA and MD Natural Heritage Programs

Evening Social and Bonfire with "Sounds of Nature" by Kevin Dodge
Sunday, October 1st
Roundtable Discussion led by Alan Ford
How can we collaborate to boost conservation?

One Workshop on campus, and many Field Trips
  to choose from depending on from which direction you
want to head home. Click for complete list of Trips and Workshops
Plus plenty to do in Charming Shepherdstown for non-plant persons: Independent Bookstore, Cycling and Kayaking, restuarants. shopping, yoga, antiques, and more!
Accommodations: The NCTC has nice hotel-style rooms rooms. Price is for the full weekend food and lodging.
Single: One double bed; $300 per person
Sharing: Two adults sharing one double bed; $220 per person
Double: Two adults sharing a room with two beds (limited availability); $220 per person
All meals from Friday dinner through Sunday lunch will be provided. No discounts for partial attendance.
Off campus housing is available in nearby hotels (approx. $100/night). Those staying off campus must pay the $100 meal fee. All meals from Friday dinner through Sunday lunch will be provided. No exceptions.