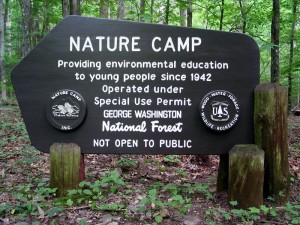 Get the Application! 2020 joint application
Nature Camp is a coeducational, academic camp that emphasizes education in natural history and environmental studies for students currently in 5th – 12th grades. It is intended for those with a genuine interest in the out-of-doors and the natural world. Campers attend class daily, keep a written notebook for each class and are expected to complete a written project for each class. Nature Camp is located at Vesuvius, VA in the George Washington National Forest.
Learn about Nature Camp at www.naturecamp.net.
Nature Camp Scholarships are provided by the John Clayton Chapter of the Virginia Native Plant Society and by the generous donation of Ralph Will and others in honor and memory of Carolyn Will and her hard work rescuing native plants with the Wildflower Rescue Team.