Date/Time
Saturday, May 4, 2019
10:00 am
Location
Lafayette High School
Categories No Categories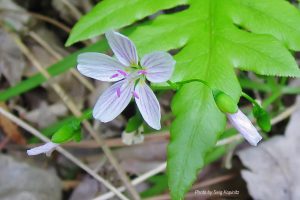 Photo: Spring Beauty (Claytonia virginica) on a Native Plant Society walk at Lafayette High School, VA Apr 2013
Spring Beauty and Cinnamon Fern should be emerging along with Golden Ragwort, Pink Lady's
Slipper and Adder's Tongue fern. Some of the more interesting mosses and liverworts are
common, often growing on the paths. The walk is on and off the trail and boardwalks and the
bottomland can be muddy, so wear appropriate clothing for the habitat and weather.
Meet Helen Hamilton in the parking lot at the front of Lafayette High School, which has easy access to the
school's Nature Trail. Register with Helen Hamilton, 757/564-4494, or helen48@cox.net.