Virginia Sweetspire – June 2017 Wildflower of the Month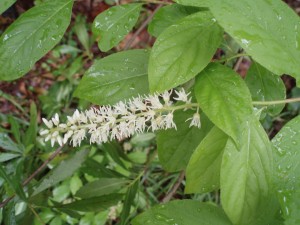 The small shrub Virginia Sweetspire is attractive throughout the growing season, with white flowers in the spring and spectacular leaf color in the fall. From May through June 4-inch white spears of flowers cover the plant, attracting many species of early butterflies. Because the flowers are small and close together, small insects can easily gather nectar. In late summer and fall, the flowers are replaced by clusters of tiny dry fruits that persist over the winter.
Elliptical green leaves have tiny teeth along the margins. As fall approaches, the leaves turn vivid colors, from yellow and orange to crimson and maroon. Sweetspire can be 6 feet tall, with a somewhat sprawling growth habit. Cultivars are available in the nursery trade with a more compact growth habit, and larger and columns of flowers.
Growing in part shade or full sun, Sweetspire is often seen in local swamp forests, and along stream banks. It is not picky about soil quality, and is a good choice by a deck, on the edge of a lawn, or on the fringe of a wooded area. An extremely useful landscape plant, it will grow under eaves where there is no air circulation and no drainage. By a creek, Sweetspire provides invaluable erosion control, and responding to additional water for its roots, will produce even better fall color. It grows in nature chiefly on the Coastal Plain in swamps and wet woods, from southern New Jersey to Florida and west to east Texas.
Without flowers Sweetspire resembles sweet Pepperbush (Clethra alnifolia) with teeth primarily in the upper half of the leaf, usually coarse and only in the upper half of the leaf. The leaf of Sweetspire is very finely serrate along most of the margin. Both are shrubs a few feet tall, and common in the Coastal Plain.
By Helen Hamilton, past-president of the John Clayton Chapter, VNPS
Photo: Sweetspire (Itea virginica) taken by Helen Hamilton