Dwarf Dandelion – April 2015 Wildflower of the Month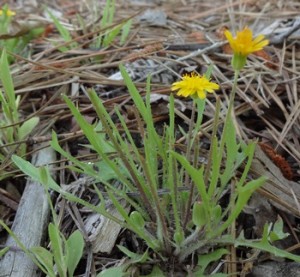 Looking like a miniature dandelion, but growing only one foot tall, this annual plant appears in lawns and roadsides in spring. The stems are leafless, or leafy only near the base, and contain a milky sap. Most of the leaves are clustered around the base, long and narrow, often wider near the tip, somewhat hairy and pointed. They are about 4 inches long and light green. A clump of fibrous roots anchors the plant – true dandelions have a long taproot.
The flower heads are small, less than 1 inch across, on long stalks and composed of all ray flowers, bright golden-yellow and strap-like. The tips of the rays are flat and cut into 3-5 shallow segments. The flowers are followed by round see heads , less than an inch in diameter, covered with bristles, which will carry the dry seeds (achenes) on the wind to new locations.
Dwarf Dandelion blooms from March through July in dry, poor soils, roadsides, fields, lawns, and sandy places. The plant is widespread across Virginia, and ranges from Maine and Vermont to Wisconsin and south to Florida and Texas. Growing best in full sun, acidic soils, and often in disturbed areas, this little plant would do well in rock gardens, and as a low border among early blooming spring bulbs.
By Helen Hamilton, past-president of the John Clayton Chapter, VNPS
Photo: Dwarf Dandelion (Krigia virginica) taken by Helen Hamilton