Shadbush – March 2015 Wildflower of the Month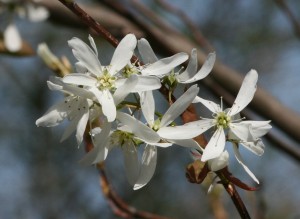 The lacy white flowers of Shadbush are the first to break winter dormancy, signaling the arrival of spring. Early colonists noticed the tree blooming when the shad are running, hence one of its common names. The plant is also known as "serviceberry" since the local ministers could visit winter-bound homes as the roads became passable, performing weddings and funerals and other services.
Shadbush is a multi-stemmed large shrub, reaching 20-25 feet in height. With a native habitat of wet bogs and swamps, it grows best in full sun or light shade on moist, well- drained, acid soil. These plants will rarely require any pruning or fertilizing, except if thinning of the multiple stems is desired. Long-term health is usually not affected by pests.
In early spring, small white flowers are produced in dense, erect spikes, then opening to attractive reddish-purple buds which unfold into small rounded leaves, smooth and dark green. The flowers produce many small, sweet and juicy fruits, often well-hidden by the leaves, which would be popular with people, were they not so quickly consumed by birds and other wildlife.
In autumn, Shadbush is alive with a variety of colorful hues, from yellow and gold to orange and deep red. This plant is striking when placed in a mixed shrubbery border  where its brilliant white blooms and fall color stand out nicely against a background of evergreen shrubs. With an open crown, the tree is well-suited for planting as a specimen near the deck or patio.
Photo by Helen Hamilton, past-president of the John Clayton Chapter, VNPS
Photo: Shadbush (Amelanchier canadensis) taken by Helen Hamilton