Spotted Spurge – December 2014 Wildflower of the Month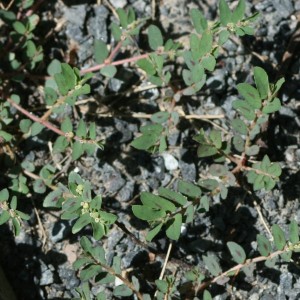 Spotted Spurge is a familiar creeping annual with more or less prostrate stems, often forming circular mats. The reddish stems are filled with sticky, milky latex. Leaves are opposite, oblong, mostly under 1/2 inch long, with toothed edges. Dark green in color, each leaf often has a central purple spot. From the leaf axils, what appear to be very small flowers with four white petals are anatomically cups with petal-like edges containing several minute male flowers and one female flower each. This species can be confused with the widespread weed Nodding Spurge (E. nutans), which has obliquely ascending stems and larger, asymmetric leaves.
Blooming all year, from January through December, this is a common weed of open disturbed areas such as lawns, gardens, fields and even sidewalk cracks. Found in every county in Virginia, Spotted Spurge is native over eastern North America and introduced elsewhere.
The milky latex can cause skin irritation and blistering and is toxic if ingested. The name maculata, "spotted," refers to the purplish mark on the leaf.
By Helen Hamilton, past-president of the John Clayton Chapter, VNPS
Photo: Spotted Spurge (Euphorbia maculata) taken by Helen Hamilton