Rediscovering Barbara Stewart's Potowmack Chapter Logo
You've probably seen the VNPS Potowmack chapter logo in publications or online over the years. Did you know this beautiful drawing of Ebony Spleenwort (Asplenium platyneuron) and Common Violet (Viola sororia) was created by Barbara Stewart in the early 1980s and adopted as the Potowmack chapter logo in 1985?
With some research and lots of help, I rediscovered the story of the chapter logo and other artwork from our chapter's early days.
My interest in our chapter logo began as part of a larger project to fill gaps in the online archive of VNPS and Potowmack chapter newsletters from 1982 to the present. Thanks to contributions from many VNPS members who provided PDF files and paper copies for scanning, complete archives for the VNPS Bulletin (now Sempervirens) and Potowmack News are now online.
These early newsletters contained lovely artwork and illustrations of native plants and wildflowers. Although artists were not always credited, many of the illustrations, including the chapter logo, were created by Barbara Stewart, who was named as "Staff Artist" in the very first Virginia Wildflower Preservation Society* Newsletter in 1982.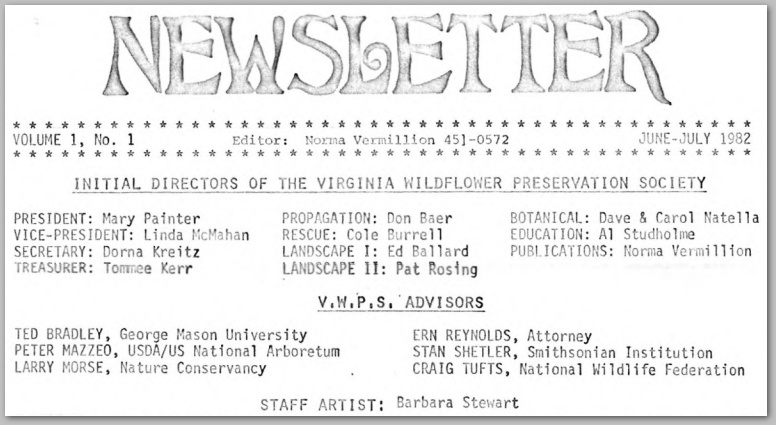 It was important to preserve and promote our chapter logo. After some digging, the logo original artwork was discovered in the Potowmack chapter's file cabinet at Green Spring Gardens. So began a search for Barbara Stewart.

Although Barbara was a VNPS Charter Member and contributed her work to the Society through the 2000s, she was no longer a VNPS member. Some of her colleagues in VNPS, including founder Mary Painter, had passed away. I couldn't reach Barbara at the phone number listed from 1982.
So I sent an old-fashioned postal mail letter to her 1982 address. Barbara received the letter and we soon made contact.
Barbara was very happy to learn of the chapter's interest in some of the "old folks" from the 1980s and 1990s. She is still quite active at 86 and recalled many details of the early years of VNPS including her friendship with Mary Painter and creating art for the fledgling organization.
Barbara's illustrations appeared in issues of the Bulletin and other Society publications such as Wildflower of the Year brochures. You can view some of her work in the brochures for Virginia Bluebells (1989), Spring Beauty (1990), Large-Flowered Trillium (1996), and Fringe-Tree (1997).
She led slide presentations, walks, and created wildflower cards and prints which were used for fundraising and as VNPS prizes and awards. Over the years, she held several volunteer positions including Staff Artist and Fundraising Chair. For many years Barbara also provided artwork for the Spring Wildflower Symposium at the Wintergreen Nature Foundation.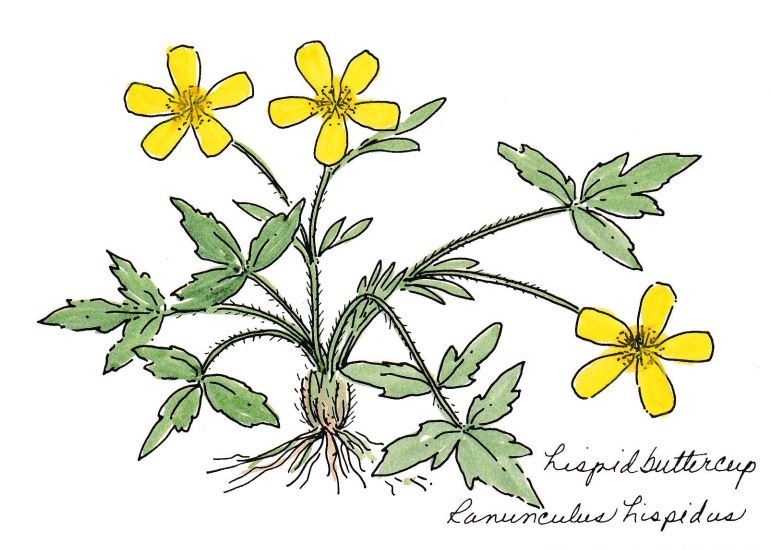 Interested in art and the natural world from an early age, Barbara created a herbarium with more than 300 specimens by age 16. She began studying art at age 12 and majored in applied art and minored in botany at Iowa State University, working as a botanical illustrator for a professor of botany. Barbara is also a world-traveled birder and a former antiques dealer.
Barbara lives in Annandale, VA with her husband James and has three daughters and several grand- and great-grandchildren. Their yard is an active native plant habitat including numerous rhododendron and many near 100-year-old oaks.
Barbara's original logo drawing is now featured on the Potowmack Chapter "About Us" Page.
By Mark Murphy
* In 1988 the Virginia Wildflower Preservation Society changed its name to the Virginia Native Plant Society to encompass the conservation of native plants other than just those commonly considered as "wildflowers."