October 2020 Update:
Winter is on it's way and the propagation crew is now preparing our plants, beds and work areas for a "long winter's nap," to borrow a phrase. We are very grateful for the opportunity we had this season to visit with so many of our members and ever-growing numbers of the public who are recognizing the benefits of adding native plants to their landscapes. You inspire and encourage us to continue our work of growing native plants and talking with you about their beauty AND their value to nature. We are looking forward to seeing you again next year—on the First Wednesday in April 2021. Be safe and Happy Holidays. See you soon. P.S. Be sure to plant those newly acquired natives into the ground!
Potowmack Chapter Plant Sales are held at our propagation beds across the driveway behind the Horticulture Center at Green Spring Gardens in Alexandria, VA. Our knowledgeable Propagation Bed Volunteers are looking forward to visiting with you and helping you select the right plants for your environment.
View the Potowmack Chapter Plant Sale Inventory
Upcoming Native Plant Sales:
Our List of Native Plant Signs, designed by Potowmack Chapter member Donna Murphy, contains photos and descriptions of many of the native plants we offer for sale. Please be advised not every plant is available every year.
VNPS also offers a series of Note Card sets that portray native plants with the animals that benefit from them. There are four 5″x7″ cards and envelopes in each set. Each card in the set shows a different plant and animal illustrated by local artist B. J. Opfer.
View Note Card samples and more information.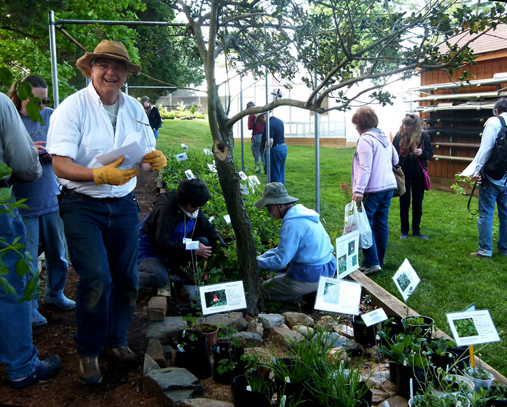 Chapter president Alan Ford assists customers in choosing the RIGHT native plant.