Our 2018 Fall Plant Sale will be on Saturday, September 22 and run from 9 a.m. to 3 p.m. Get your plant list ready!
The plant sales are held at our propagation beds across the driveway behind the Horticulture Center at Green Spring Gardens in Alexandria, VA.
The knowledgable propagation bed volunteers are looking forward to visiting with you at our Fall plant sale. We're promoting the Society's 2018 flower of the year, Flowering Dogwood (Cornus florida), by offering small trees to get started in your landscape. Providing spring flowers for pollinators, fall berries for birds and mammals and flashy fall color for all, these understory trees work into any landscape.
Other exciting woody plants being offered this Fall are young Pawpaw (Asimina triloba), large Swamp rose (Rosa palustris), Southern arrowwood (Viburnum dentate), and Virginia sweetspire (Itea virginica). We also have various sizes of the woody vine Coral honeysuckle (Lonicera sempervirens), a favorite of our local hummingbirds.
Also available are a large variety perennials for both sun and shade, including some Spring ephemerals. Our last year's seedlings of Helen's flower (Helenium autumnale) have grown up and should flower in late summer, attracting butterflies and a large variety of pollinators.
See you at the beds.
Click here to download a file containing pictures and descriptions many  of the plants we have for sale. It is a large .pdf file that is used to generate plant signs for our sales. Please be advised not every plant is available every year.
VNPS note cards are also available at our plant sales. Click here for more details.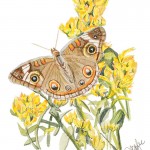 Plants are also be available for sale from 10 a.m. to 1 p.m. on the first Wednesday of the month from April to October.