Trillium Trek at Thompson WMA with Alonso Abugattas
Date/Time
Saturday, April 22, 2023
9:00 am - 1:00 pm
Location
Thompson Wildlife Management Area
Categories
Travel to the Thompson Wildlife Management Area at Linden, VA to see one of the largest (millions!) Great White Trillium displays in the world! This area is resplendent with many (often rare) wildflowers and trees, including native orchids and a variety of wildlife to observe. On the somewhat rocky two-mile trail we'll discuss plant folklore, natural history, identification and ethnobotany.
Registration is required and limited to 25 participants.
Registration Coming Soon
Meeting place, directions, and complete event details will be sent via email to all registrants.
Carpooling is recommended as parking is limited. After registration, send carpooling offers and requests to vnps.pot@gmail.com
What to bring and what to expect
The two-mile trail is somewhat rocky, so please wear sturdy shoes. Dress for the weather—although we will cancel in the event of heavy rain/thunderstorm. Bring water and a bag lunch to eat on the trail. Bring tick repellant. (The nymphal Deer Ticks (Ixodes scapularis) emerge in April, and although this area is not known for a high tick population, we still need to take them seriously.)
Cell phone reception is spotty at best. Sometimes service is available from the parking lots, but generally not once we are on the trail.
Access Permits
VNPS has purchased a day-use group access permit, so individuals are not required to get their own.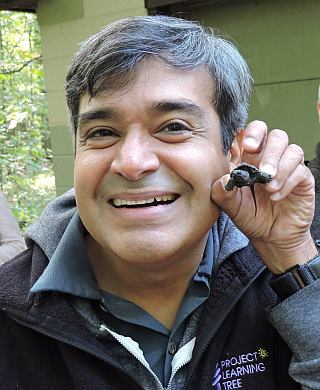 Alonso Abugattas is a well-known local naturalist, environmental educator, and storyteller in the Washington, DC area. He is the Natural Resources Manager for Arlington County Parks, VA and the long-time Co-Chair for the Beltway Chapter of Region 2 of the National Association for Interpretation, the professional association for naturalists, historians, and docents. He was awarded their Regional Outstanding Interpretive Manager Award in 2018 and the national Master Interpretive Manager in 2018. He has been trained as a Master Gardener, was made an honorary Virginia Master Naturalist for his role in starting 2 chapters, and serves as an instructor for several chapters in both organizations. Alonso Abugattas received a Regional Environmental Champion award at the 2020 Naturally Latinos Conference through the Audubon Naturalist Society. He was a co-founder of the Washington Area Butterfly Club, a member of the Washington Biologist Field Club (one of the oldest and most exclusive field clubs in the country since 1901), and has held several offices (including President) for the Potowmack Chapter of the Virginia Native Plant Society. With numerous mentions and appearances on television, radio, podcasts and the press, he invites you to check out his NAI Interpretive Section Thomas Say Media Award winning FaceBook Group "Capital Naturalist", his Capital Naturalist Blog (http://capitalnaturalist.blogspot.com/), @CapNaturalist on Twitter, and the Capital Naturalist YouTube Channel.