Potowmack's Propagation Beds
Beginning in April, we have a low-key PLANT SALE on the first Wednesday of each month right at our propagation beds at Green Springs Garden. This a great opportunity for those interested in buying native plants, or just visiting the beds and plants, without the frenzy of our big sales sale days. We always have time to talk to you and to help you with selections. We have trees, shrubs, vines, forbs, grasses, ferns and more to choose from, all raised and grown out by chapter members.
Here is a link to our plant list, with full color photos and habitat preferences: Potowmack Plant List

Please be advised not every plant is available every year.
Hours: 10 a.m. to 1 p.m.
We work in the propagation beds every Wednesday, and welcome help. Please come by and talk with us; we can show you what to do, or we welcome your own expertise if you have wisdom to share! We're a friendly group. We start at 10 a.m., and our jobs change with the seasons, from sowing, transplanting and pruning to putting plants to bed for winter. Sales of our plants are an important source of revenue for our chapter. We're a friendly group, do come on out and say hello; and on the first Wednesday, buy some nice native plants to bring beauty to your garden and to support the wildlife that will be part of your display.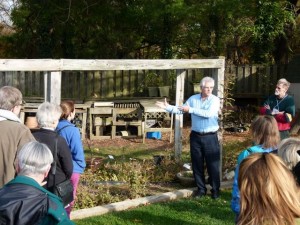 The propagation beds are behind the main building at Green Springs. Follow the path on around the side. You'll see us!
Park address:
4603 Green Spring Rd, Alexandria, VA 22312
Park Website: http://www.fairfaxcounty.gov/parks/greenspring/