Date/Time
Thursday, September 27, 2018
6:30 pm - 8:30 pm
Location
Norfolk Botanical Garden, Holly Room
Categories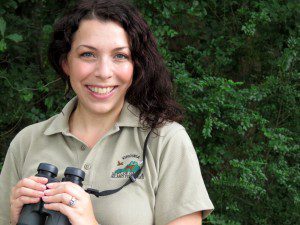 Come join us as we welcome Jessica Ruthenberg to our September meeting.  Jessica is a watchable wildlife biologist for the Virginia Department of Game and Inland Fisheries.
Based in a field office in Chesapeake, she promotes nature appreciation and birding wildlife viewing as recreation and eco-tourism, particularly along Virginia's coast. She works with partners to plan birding festivals, including the annual Winter Wildlife Festival in Virginia Beach; coordinates the Richmond falcon cam; writes blog posts; and teaches workshops – all as part of the department's mission to "conserve and connect."
She also coordinates the Virginia Birding and Wildlife Trail, a network of more than 600 wildlife viewing sites throughout the state, which can be found on www.dgif.virginia.gov/vbwt.
Jessica has a Master of Science in Natural Resources and Environment from University of Michigan.
The South Hampton Roads Chapter meetings are open to the public and there is no charge for the evening program. We meet at the Norfolk Botanical Garden in the Holly Room.  Please come and bring a friend!   Refreshments will be served.  Please plan to arrive before 7:00 as the gate to the Norfolk Botanical Garden closes at that time.
6:30 – 7:00   Meet & Greet Social Time
7:00   Welcome Jessica Ruthenberg; Business meeting & announcements
Photo: Virginian-Pilot file photo