News & Updates
• Catch up with the Jefferson Chapter in the Fall, 2023 Declaration newsletter! Learn about Ivy Creek Pollinator Garden's future meadow, our Fall potting party, upcoming events and fields trips and much more! 9/15/2023
• Check out the Spring, 2023 Declaration newsletter! Read about the (unsuccessful) quest for a rare plant, a meditation on February,  light pollution, upcoming chapter meetings and walks, and more! 3/4/2023
• Enjoy reading the Fall, 2022 Declaration newsletter! Learn about the evolution of a meadow, later summer blooms, the unique features and habitats of Maple Flats in August county, the Ivy Creek Pollinator Garden, upcoming chapter meetings and walks, and more! 9/26/2022
• Don't miss reading the Spring, 2022 Declaration newsletter! News about our chapter's upcoming plant sale on April 24, new threats to the Spicebush Swallowtail butterfly, upcoming chapter events, and more.  3/10/2022
• Just published: the Summer, 2021 Declaration newsletter!  Read about earthworms, a "new" orange caterpillar on milkweed, White Snakeroot, our spring virtual plant sale, upcoming chapter events and more. 8/29/2021
• The Winter, 2021 Declaration newsletter is now online!  Learn about Common Buckeye Butterfly, the Ivy Creek Pollinator Garden, upcoming chapter events and more. 3/4/2021
• Are you looking for a fun family activity while social distancing? Check out November's Ivy Creek virtual plant walk with Ruth Douglas. 11/21/2020
• Enjoy the Summer, 2020 Declaration newsletter. Learn all about the stamens, Pipevine Swallowtail Butterfly, and upcoming plant walks and meetings. 8/28/2020
• Learn about the Mourning Cloak, a late winter butterfly; Pawpaws in the limelight; and our Native Plant Sale in the Winter, 2020 edition of the The Declaration newsletter.
•  Update your calendar for upcoming local meetings, presentations, lectures, and other events described in the Jefferson Chapter Events Calendar.
•  And keep up with Jefferson chapter activities and discussion on our Facebook Page!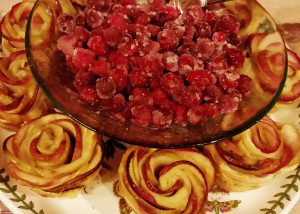 At our November 11, 2015 Chapter Meeting Betty Truax served Sugared Cranberries and several people asked how to make them. They are easy to make! Put them in a jar with a pretty ribbon and bring as an unusual and tasty hostess gift. — Enjoy! 2 1/2 cups sugar plus extra…