Pocahontas Chapter April Meeting – Botanical Art: Illustrations, Watercolors, and Nature Journals with Laura Call Gastinger
Map Unavailable
Date/Time
Thursday, April 1, 2021
6:45 pm - 9:00 pm
Categories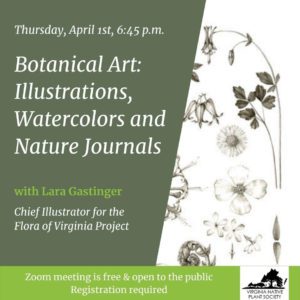 Join Lara Gastinger as she speaks about being a botanical artist, from her initial illustrations with the Flora of Virginia project to her paintings and perpetual journals. She is a member of the VNPS Jefferson Chapter and enjoys inspiring others to observe and draw plants around them.
Lara Call Gastinger is a botanical artist and illustrator in Charlottesville, Virginia. She was the chief illustrator for the Flora of Virginia Project after she received her master's degree from Virginia Tech in Plant Ecology. She has been awarded two gold medals (2018, 2007) at the Royal Horticultural Society garden show in London and her work has been in numerous American Society of Botanical Artist exhibits, the Hunt Institute for Botanical Documentation and published books such as the Peterson Field Guide to Mushrooms. She is widely known on Instagram for promoting and teaching how to create a perpetual journal.
This free zoom meeting is open to the public. The meet and greet starts at 6:45 followed by the presentation at 7 p.m. A short business meeting will follow the presentation.
The Pocahontas Chapter is one of 12 Virginia Native Plant Society chapters, and serves the counties of Amelia, Charles City, Chesterfield, Goochland, Hanover, Henrico, King William, New Kent, Powhatan, Prince George, and the cities of Colonial Heights, Hopewell, Petersburg, and Richmond. In addition to eight monthly meetings and newsletters, the chapter conducts field trips and holds a May picnic and wildflower walk.
Membership in a chapter is available to anyone who joins the Virginia Native Plant Society. VNPS members enjoy the natural world and support efforts to preserve Virginia's native plants. Ranging in age from students to seniors, members are professionals, knowledgeable amateurs and many who are just beginning to learn about our flora. While some members join enthusiastically in activities, others help out occasionally or support the society solely with their memberships and their interest. All are welcome.