Plant Sale Profile: Chrysogonum virginianum
Another plant being offered at our native plant sale this spring is Chrysogonum virginianum. Common names for this plant are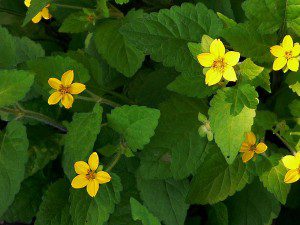 Goldenstar, Green and Gold, and Golden Knees. Chrysogonum virginianum is a nice groundcover that actually will tolerate some light foot traffic.
With golden yellow blooms (1- 1.25 in wide) from Mar – Jun this plant is a good source of nectar. In optimum conditions it may re-bloom sparingly off and on throughout the summer. It grows 6 -12 inches tall and spreads moderately quickly.
In the garden, Chrysogonum virginianum should be planted in well drained but moist soil in sunny to shady conditions. The more sun it gets the more moisture it needs but do not let the roots sit in consistently wet soil, it can develop root rot. This plant grows best
in bright shade. A woodland situation is a good place to grow this plant along with foam flower, bugbane and ferns. During times of drought, particularly the first couple of years, watering may be necessary. If leaves turn brown at the edges or develop mildew, simply cut the leaves off and in the case of mildew throw away.
Divide Chrysogonum virginianum in the early spring. Some plants produce stolons (horizontal roots on or near the ground) which you can cut and transplant in the fall.
In nature you can find this plant in mesic to dry upland forests and woodlands; usually in moderately to strongly base-rich soils. Common in the Piedmont and lower mountains (except sw. Virginia).