Plant Sale Profile: Aquilegia Canadensis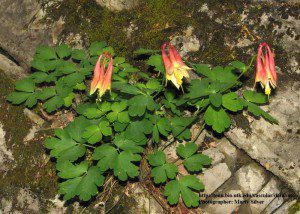 Native throughout the piedmont and most counties in Virginia, Aquilegia Canadensis (Wild Columbine, Eastern Red Columbine) can be found in dry forests, woodlands, barrens, and rock outcrops; shell-marl slopes, bluffs, and shell middens in the Coastal Plain. Although most numerous on subcalcareous, calcareous, and mafic substrates, in the higher mountains it is more tolerant of acidic soils and varied habitats, including mesic to dry-mesic forests, meadows, and roadsides.
Aquilegia Canadensis, a member of the Ranunculaceae (buttercup) family has beautiful 1 1/2 inch red and yellow blooms. Blooming in late spring to early summer for about a month, this plant does not have a scent. Growing from 1-3 feet tall, the foliage is also attractive. The foliage is toxic so this plant is rarely bothered by mammals.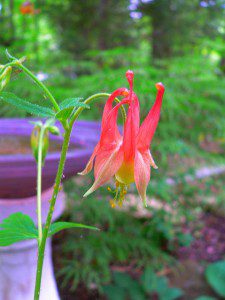 Aquilegia Canadensis grows in light shade to partial sun, the more established plants even tolerating full sun. Moist soil to dry conditions that is loamy, rocky or slightly sandy is its optimum growing environment.
Easy to grow Aquilegia Canadensis, was observed by Thomas Mann Randolph, Thomas Jefferson's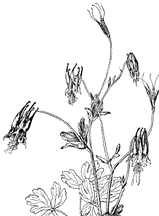 son-in-law, blooming on April 30, 1791 at Monticello. Seeds can be planted at any time during the growing season for flowers the following year. Roots are fibrous and rhizomes sometimes are produced.
Bees, flies, insect larvae, and hummingbirds all benefit from Aquilegia Canadensis making it a great plant to add into your semi-shady/woodland garden.
Line Drawing from New Britton and Brown Illustrated Flora by H. A. Gleason (1958)