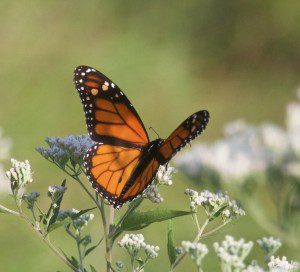 My excitement rose when I first glimpsed the Wildlife Way Station being maintained at the car rest area along I-95 in Dale City. A good-sized plot of land was being cultivated with native plants that were attracting and feeding many of the area's wild birds and... read more
Older Posts
I and others have recently received inquiries regarding cases of oak decline and death throughout Arlington County and the City of Alexandria, Virginia – oak species (Quercus spp.) being the dominant and characteristic trees of the upland landscape in both...
The 2016 VNPS Annual Meeting was a lot of fun; full of laughter and mingling with old friends as well as making many new ones. The highlight of the weekend for me was a Lichen Walk at Wildwood Park. To our delight only four of us joined Gary Cote for the walk, and we...
The fascinating process of pollination, and the beautiful creatures who perform it, these are indeed wonderful things to celebrate. Pollinator Week 2016, June 20 – 26, comes at a good time for us to focus on something we can all appreciate, understand, and...
The hot topic of mosquitoes and the potential for spread of the dreaded Zika virus created quite a buzz at the May 12 chapter meeting of Potowmack chapter. Michael Raupp, Ph.D., Professor of Entomology at the University of Maryland, was scheduled to speak on the topic...
Important decisions about how to maintain a lawn area have received a lot of press as ideas  change about the ways we use, and treat, this part of the landscape. Rod Simmons spoke on the subject recently, and has kindly agreed to share answers to some of the follow-up...
Just a few weeks after learning about mushrooms at the VNPS Workshop, Plants and Their Friends: Exploring Partnerships Above and Below Ground, I got out of my car, wandered across to see what was blooming in the front yard. There, in bloom, was a wood poppy that a...
Huntley Meadows probably has the largest population of purple milkweed in the state according to Gary Fleming, Vegetation Ecologist for Virginia's Natural Heritage Program. For a number of years, through efforts begun by its Past President, Marianne Mooney, the...
Part I.  Hope ~Paying attention to local natural systems teaches us how to bring forth the hidden potential of nature in areas where others have lost hope.  During our ecosystem surveys one of the primary things we find is hope. Although 300 years of landscape...
All of a sudden, mosses, liverworts, and friends are on a minor upswing in popularity. That thin green mat cushioning your feet and plastering tree trunks, that lowly layer of who-knows-what, is now more popular with the botanist and gardener than ever; it has spawned...
I am a gardener and an angler.  In the spring, these two passions vie for my attention simultaneously because gardens and trout streams wake up from winter at around the same moment.  Just as warming ground stimulates seeds to germinate, bulbs to flower and trees to...