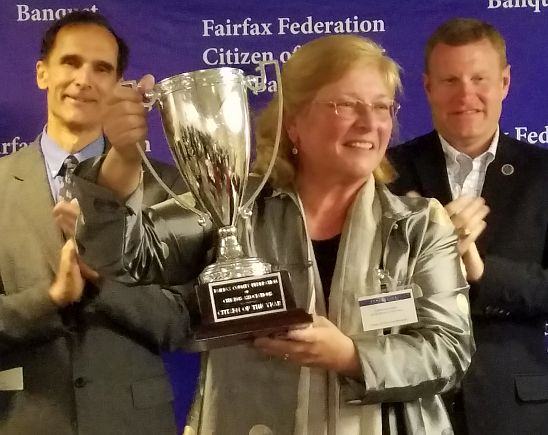 Recently I had the pleasure of attending a banquet where VNPS member Cathy Ledec was honored as Fairfax County's 2018 Citizen of the Year. How gratifying it is to see someone recognized for efforts in preserving our natural environment! This prestigious award... read more
Older Posts
It's a classic tale of being careful what you wish for. As a high school student in Germany I went hiking with my classmates in the early spring woods. As I unpacked lunch, friends gathered knoblauchskraut at the forest edge, and we then added the native herb to our...
My daughter, Chrissy, and I had been watching the 200-acre woodlands for months. First the "Land For Sale" sign went up; later the sign was marked "Sold," then, most ominously, fluorescent orange flagging-tape marked the trees. The lovely wooded site was...
I, as do so many of you, present lectures and workshops to a wide range of people in which we are encouraging them to become familiar with the local flora, to plant native plants that require less water, to plant and conserve those species that are important to...
Kates Mountain Clover, (Trifolium virginicum) is one of only three clovers that are native to Virginia. First discovered on Kate's Mountain in West Virginia in 1892 by botanist, John Kukel Small, this plant is known to exist only in four states and in a very specific...
Small but mighty, the VNPS rose up with spirit to meet the challenges of 2017.  The members of our Society did not sit around eating bonbons and gnashing teeth over discouraging events last year. Well, maybe there was some gnashing of teeth . . . but in the end,...
My excitement rose when I first glimpsed the Wildlife Way Station being maintained at the car rest area along I-95 in Dale City. A good-sized plot of land was being cultivated with native plants that were attracting and feeding many of the area's wild birds and...
The Tri-state Native Plant Society Conference at the National Conservation Training Center was a blast this year.  From the venue, to the nightly speakers, to the field trips, everything was incredible, which is why I'd like to first extend my gratitude to all those...
The listing of the Rusty Patched Bumblebee, (Bombus affinus), on the Endangered Species Act hit me as a surprise. It made me begin to think about bee habitat and how little the public knows about how to help this species. This bumblebee, along with many other...
Though many view Eastern Red Cedars, (Juniperus virginiana), as weeds in abandoned sites, we love the native Cedar for its sturdy evergreen structure in the landscape. In our native plant landscape designs, here at  The Natural Garden we use Red Cedars as a dense...
Many are the pleasures of a stroll into shady woods or floriferous meadows on a fair summer's day.  Exuberant spring is spent and plants still verdant and youthful now assume attitudes more calm and serene. But when you go out to walk with a Botanical Bunch, you can...