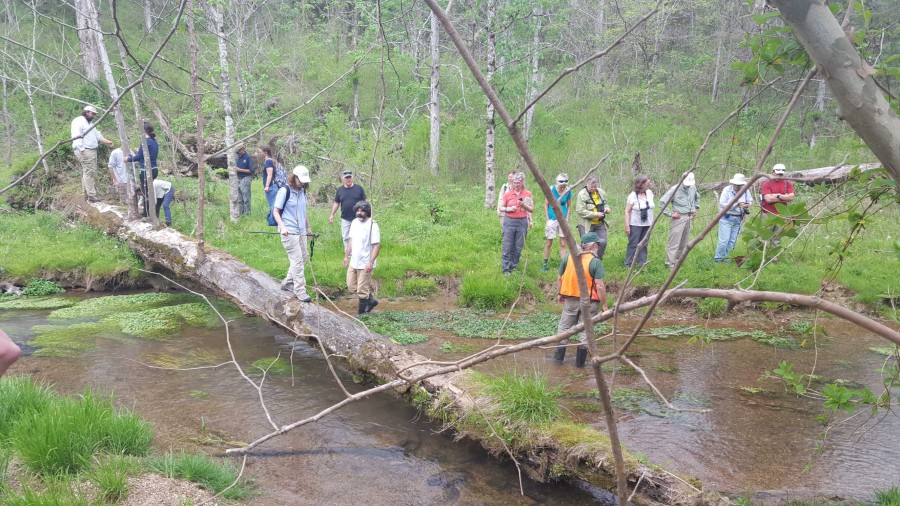 I'm back from far southwest Virginia, and I have to share.  The Virginia Native Plant Society contributed to purchasing land to join together some of the disparate tracts of The Cedars Natural Area. In appreciation, Rob Evans, Natural Areas Protection Manager,... read more
Older Posts
My excitement rose when I first glimpsed the Wildlife Way Station being maintained at the car rest area along I-95 in Dale City. A good-sized plot of land was being cultivated with native plants that were attracting and feeding many of the area's wild birds and...
The Tri-state Native Plant Society Conference at the National Conservation Training Center was a blast this year.  From the venue, to the nightly speakers, to the field trips, everything was incredible, which is why I'd like to first extend my gratitude to all those...
The listing of the Rusty Patched Bumblebee, (Bombus affinus), on the Endangered Species Act hit me as a surprise. It made me begin to think about bee habitat and how little the public knows about how to help this species. This bumblebee, along with many other...
Though many view Eastern Red Cedars, (Juniperus virginiana), as weeds in abandoned sites, we love the native Cedar for its sturdy evergreen structure in the landscape. In our native plant landscape designs, here at  The Natural Garden we use Red Cedars as a dense...
Many are the pleasures of a stroll into shady woods or floriferous meadows on a fair summer's day.  Exuberant spring is spent and plants still verdant and youthful now assume attitudes more calm and serene. But when you go out to walk with a Botanical Bunch, you can...
Worldwide, Iridaceae, the Iris Family comprises 65 genera and approximately 6700-7170 species. The growth forms of this family range from herbs to shrubs with all of our species being herbaceous. The Iris Family or Iridaceae was named by A.L. de Jussieu in 1789. This...
While I was writing about ferns and mosses, I became aware of other plants that could not be ignored, since some are very common here, such as Ground-pine and Running-cedar. These plants are Lycophytes, which happen to be the first entry of Taxonomic Treatments in the...
Winter Creeper, (Euonymus fortunei), with its glossy evergreen leaves, is easy to spot in the woods right now. This member of the Bittersweet family, (Celastraceae), is native to China, Japan and Korea. Introduced here as an ornamental plant, Winter Creeper, also...
The old-age forest section of Chapman State Park is a fascinating and regionally unique meeting ground for plants with a primary range in the inner Piedmont and mountains and those of the Coastal Plain. This section extends from the low river terrace and extensive...
The barrier islands are one of Virginia's last great wilderness areas, virtually uninhabited by humans. They have one of the longest stretches of undeveloped coastline on the eastern seaboard, and the longest stretch of undeveloped barrier islands in the global...