Date/Time
Thursday, October 24, 2019
7:00 pm - 8:30 pm
Location
Rockbridge Regional Library
Categories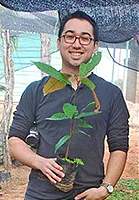 Matt Bright, the Conservation Manager of Earth Sangha, a non-profit focused on native plant conservation, propagation, and restoration based in Fairfax County, will explain how ecological restoration principals such as focusing on native plant communities, minimizing harm to existing natural areas, and concerns about plant provenance can help you garden with native plants.
Using these simple concepts, gardening with locally native plants can be more intuitive, lower maintenance, and more ecologically valuable.
Sponsored by the Upper James River Chapter of the Virginia Native Plant Society and the Rockbridge Area Master Gardeners.