South Hampton Roads Chapter – November 2022 Meeting
Map Unavailable
Date/Time
Thursday, November 17, 2022
6:30 pm - 8:00 pm
Categories
Thursday, November 17th,2022, starting at 06:30 PM, at NBG, and will be set up as a hybrid meeting for those who choose to Zoom in. The meeting will be in the Garden Auditorium.
At this meeting there will be a SEED EXCHANGE day … Bring your seeds and exchange them, donate them or whatever you want to do with them with all our assistants. The more we share, the more we will "spread" the seed of the green thumbs.
Our speaker this month is Laurie J. Fox, Ph.D. She is Horticulture Associate for Virginia Tech at the School of Plant & Environmental Sciences. Her talk titled: "Let's Talk Native – A look at the pros and cons, location, maintenance, resources and favorite native plants"
We will also have at the same time a Zoom virtual meeting for those who want to watch, listen and participate remotely by clicking on this link: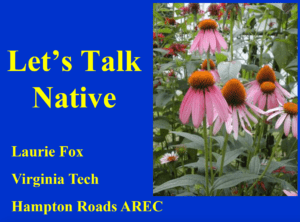 Join Zoom Meeting
https://us06web.zoom.us/j/84743188704?pwd=Z3l3dmp2aGJKS3dmQWlPbHJlSmswQT09
Remember to follow us on Facebook and Instagram and think about join the VNPS.