Below is a description of volunteer activities sponsored or co-sponsored by the Potowmack Chapter of VNPS. Come out to help protect the environment, get some exercise and have fun with a nice group of people.
Click here for a list of sister organizations that also have volunteer opportunities in the area. You can visit their web sites to learn more about them and what activities they offer.
---
Green Spring Gardens Native Plant Beds
10am to 1pm every Wednesday from April through October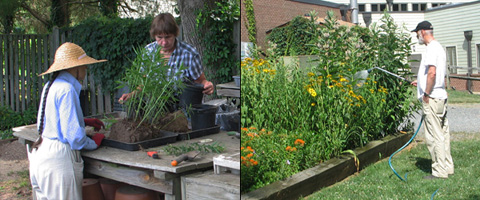 The Native Plant Beds are a demonstration garden and source of plants for our spring and fall plant sales. We gather every Wednesday morning from April through October to maintain the beds and pot plants for our sales. The beds are located at Green Spring Gardens behind the Horticulture Center. More information about our work at the Native Plant Beds.