2014 Fall Plant Sale
Our 2014 Fall Plant Sale is on September 13th from 9:00 to 4:30. The plant sale is held at our propagation beds across the driveway behind the Horticulture Center at Green Spring Gardens.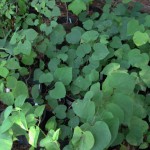 We offer over 100 species of native wildflowers, shrubs, vines, trees, ferns, sedges and grasses. They are all for sale from $7.00 to $10.00 (more for a few larger plants). Please see the lists of herbaceous and woody plants typically available. VNPS members get a discount!  The young Redbud Trees (Cercis canadensis) pictured at left are among the many plants we offer. It's an under story tree that's covered with pink flowers in spring and is of special value to native bees.
Our plant sale is part of Green Spring Fall Garden Day. There are lots of other vendors (some of them with native plants), a bake sale, music, and other activities.