Potowmack Chapter 2023 Annual Meeting & Program
Date/Time
Sunday, November 5, 2023
1:00 pm - 3:30 pm
Location
Green Spring Gardens
Categories
The VNPS Potowmack Chapter 2023 Annual Meeting & Program will be held on Sunday, November 5, 2023, at the Green Spring Gardens Visitor Center in Alexandria, VA.
Per the Potowmack Chapter Bylaws, this meeting is held to elect officers and at-large members of the Board, to approve the budget for the upcoming year, and to conduct such other business as may be appropriate. Election Proxy Ballots and the proposed FY24 Budget will be emailed to all Potowmack Chapter members no later than October 6, 2023.
1:00 pm – Social Time
1:30 pm – Business Meeting
The following members are proposed for reelection to the VNPS Potowmack Chapter Board of Directors. View the Proposed 2024 Potowmack Chapter Budget.
Alan Ford, President
Mark Murphy, Vice-President
Scott Knudsen, Treasurer
Jennifer Brown, Secretary
If you are unable to attend the Annual Meeting in person, please submit a PROXY BALLOT by sending an email  to secretary.pot@vnps.org with either "YES" or "NO" to the following ballot items. You may also print and mail this page to the Potowmack Chapter Secretary at P.O. Box 5311, Arlington VA 22205. Your ballot must be received no later than Thursday, November 2, 2023.
I hereby authorize the Potowmack Chapter Secretary to cast my vote in favor of the 2024 Proposed Budget and for the Slate of Candidates listed at https://vnps.org/potowmack/events/potowmack-chapter-2023-annual-meeting-program/. YES [  ] or NO [  ]
2:00 pm – Program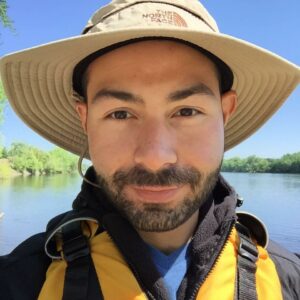 Nelson DeBarros will give a presentation on Asters, which include familiar favorites such as New England Aster (Symphyotrichum novae-angliae), White Wood Aster (Eurybia divaricata) and Heart-Leaf Aster (Symphyotrichum cordifolium). 
Nelson is a Vegetation Ecologist with the Fairfax County Park Authority. He earned his B.S. in Biology from Providence College in Rhode Island, and a M.S. in Ecology from the Pennsylvania State University.
Before relocating to the Mid-Atlantic, Nelson served as the program botanist for the Connecticut Natural Diversity Database.
---