National Native Plant Month: April, 2022
The U.S. Senate on March 30 passed Senate Resolution 570 declaring April, 2022 as "National Native Plant Month."
Sponsored by Senator Rob Portman (R-OH) and Senator Mazie K. Hirono (D-HI), the resolution was supported by more than 30 state and national organizations and individuals, including VNPS.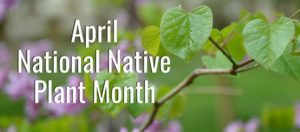 Designating April 2022 as "National Native Plant Month".

Whereas native plants are indigenous species that have evolved and occur naturally in a particular region, ecosystem, and habitat;

Whereas there are more than 17,000 native plant species in the United States, which include trees, shrubs, vines, grasses, and wildflowers;

Whereas native plants help prevent flooding, drought, and erosion and can help restore damaged ecosystems;

Whereas native plants provide shelter as well as nectar, pollen, and seeds that serve as food for native butterflies, insects, birds, and other wildlife in ways that non-native plants cannot;

Whereas more than 200 of the native plant species in the United States are estimated to have been lost since the early 19th century;

Whereas habitat loss and degradation, extreme weather events, and invasive species have contributed to the decline of native plants in the United States; and

Whereas native plants are essential components of resilient ecosystems and our natural heritage: Now, therefore, be it

Resolved, That the Senate—

(1) designates April 2022 as "National Native Plant Month"; and

(2) recognizes the benefits of native plants to the environment and economy of the United States.
View the complete text of SR 570.
---
Supporters include: Ohio Native Plant Month, Arizona Native Plant Society, Aullwood Audubon, Cincinnati Nature Center, Cincinnati Zoo and Botanical Garden, Colorado Native Plant Society, Cuyahoga Soil & Water Conservation District, Davey Resource Group, Inc, Dawes Arboretum, Denver Botanic Gardens, Florida Native Plant Society, The Garden Club of America, Great Healthy Yard Project, Keep America Beautiful, Klyn Nurseries, Inc., Lake Erie Allegheny Partnership, Lani-Kailua Branch of the Outdoor Circle, Longwood Gardens, Medina County Park District, National Audubon Society, National Parks Conservation Association, National Wildlife Federation, Native Plant Society of Northeastern Ohio, Native Plant Society of Oregon, Nature Conservancy, Nature Scoop, New York Botanical Garden, North Carolina Botanical Garden, Ohio Environmental Council, Pollinator Partnership, Great Lakes Region, Summit Soil and Water Conservation District, University of Delaware, Utah Native Plant Society, Virginia Native Plant Society, Weed Wrangle®, Western Reserve Land Conservancy, Wild Ones: Native Plants, Audubon Society of Ohio, Civic Garden Center, California Native Plant Society, Keep Ohio Beautiful, Montana Native Plant Society, Native Plant Society of New Jersey, The Wilderness Center, Washington Native Plant Society, Save Ohio Bees, Northeast Ohio Regional Sewer District, Coventry Township (Summit County, OH).