Wildflowers and Grasses on Virginia's Coastal Plain
Date/Time
Tuesday, February 2, 2016
4:30 pm - 6:00 pm
Location
Jamestown Settlement
Categories
Helen Hamilton will present "Wildflowers and Grasses on Virginia's Coastal Plain" at 4:30 p.m.  Past President of the John Clayton Chapter, Virginia Native Plant Society, Ms. Hamilton is co-author of "Wildflowers & Grasses of Virginia's Coastal Plain."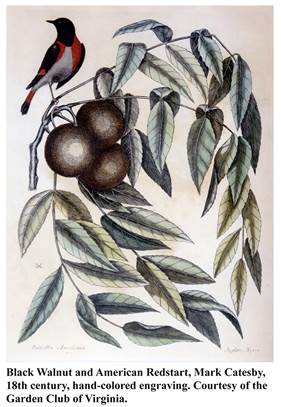 The lecture is preceded by a one-hour Jamestown Settlement outdoor guided tour at 2 p.m., "Through the Eyes of Catesby," focusing on the flora and fauna depicted in Catesby's watercolors, and a 45-minute tour of the exhibit at 3:30 p.m. These tours are included with museum admission.
About the Exhibition
On loan from the Garden Club of Virginia, 17 period hand-colored engravings created from Catesby's watercolor paintings of American flora and fauna, will be exhibited alongside a 1762 edition of Flora Virginica, based on Clayton's work. The exhibit, which is curated by the Flora of Virginia Project, also will include tools used for studying and collecting plants, and biographies of Catesby and Clayton.
Seven public programs related to the "Botanical Virginia" theme will be presented during the period of the exhibit, December 5, 2015, to February 28, 2016: lectures at 4:30 p.m. December 10, January 5 and 19, and February 2; and 10 a.m. to 2 p.m. workshops on January 14 and 28 and February 25.
During seven years in Virginia, from 1712 to 1719, Englishman Mark Catesby collected plants from the region of the lower James River to the river's headwaters in the Appalachian Mountains. He returned to America in 1722 and continued his work for four more years, collecting and drawing plants and animals from the more southeastern reaches of North America and the Bahamas. Back in England in 1726, he began producing engravings of his watercolors, later published in The Natural History of Carolina, Florida, and the Bahama Islands.
A contemporary of Catesby, John Clayton was born in England and by 1720 was serving as the clerk of Gloucester County, Virginia. Clayton, a student of botany, provided Catesby and John Frederick Gronovius with dried plant specimens and compiled a catalog of plants native to Virginia. Gronovius, of the Netherlands, published Clayton's work in Flora Virginica in two volumes, in 1739 and 1743. This and a second, 1762, edition were the first and, for more than two centuries, the only published compilations of Virginia's native plants.
The Flora of Virginia Project, begun in 2001, resulted in the publication of Flora of Virginia in 2012, describing 3,164 plant species and containing 1,400 original illustrations. The project continues with a focus on education and outreach, including a partnership with the Jamestown-Yorktown Foundation in presenting "Clayton & Catesby: Botanical Virginia" at Jamestown Settlement. The exhibit is supported with private gifts to the Jamestown-Yorktown Foundation, Inc.
Download
iCal
file