Virginia Living Museum Native Plant Sale
Date/Time
Saturday, September 17, 2022 - Sunday, September 18, 2022
9:00 am - 4:00 pm
Location
Virginia Living Museum
Categories
The Virginia Living Museum (located in the Hampton Roads area of Virginia) popular Native Plant Sale offers 134 beautiful and unusual native perennials, vines, shrubs and trees. Celebrating 35 years of native plant sales, the Museum connects people to nature through educational experiences that promote conservation. The annual fall sale will take place onsite in the Virginia Living Museum Conservation Garden this September.
View more information on the Virginia Living Museum Event Calendar. The Plant Sale continues on September 24 and 25.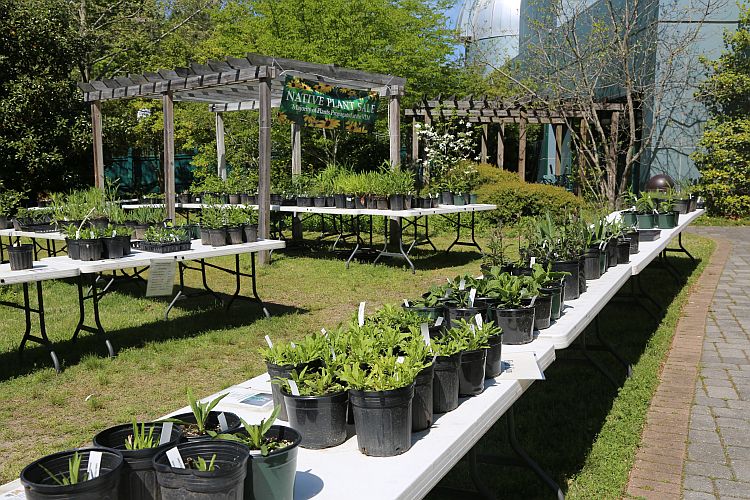 The Virginia Living Museum's experienced team of horticulture staff and volunteers propagate plants in the Holt Native Plant Conservatory. Named for Museum founders Mary Sherwood Holt and her late husband Quincy, the Conservatory has enabled the Museum to expand its horticultural and garden education programs. With more than 830 square feet of plant propagation, greenhouse and horticulture storage space, the resource allows staff to grow large plant material for use in animal exhibits, propagate hard-to-find ornamental native trees and shrubs, and to experiment with propagation methods for rare and endangered native plant species.
All plants are nursery propagated at the Virginia Living Museum and many are not yet available in the commercial nursery trade. Choosing native plants improves water quality and protects our local watersheds. Native plants help preserve biodiversity and aid in the conservation of native flora and fauna by providing the correct habitat for pollinators, birds, and wildlife that live in or migrate through our area. Perfectly adapted for Virginia's soil and climate, native plants reduce the amount of watering and fertilizing they require as they naturally resist many diseases and pests in the local area. Their root systems help prevent erosion and absorb excess nutrients eliminating runoff and reducing pollution. This limits chemical use in yards and waterways, creating a healthier environment.
The wide variety of plants available includes options for many garden sites and styles, from wet ponds to dry rock gardens, and for attracting a variety of native wildlife. Area gardeners enjoy their local weather tolerance and ability to serve as food and shelter for area wildlife, while also providing a good show in the garden.
Plants can be purchased with cash or card!
Download
iCal
file