2023 Annual Meeting and Program
Date/Time
Friday, October 6, 2023 - Sunday, October 8, 2023
All Day
Location
Virginia Institute of Marine Science
Categories
Please join us for the VNPS 2023 Annual Meeting at the Virginia Institute of Marine Science (VIMS) in Gloucester, VA, and nearby locations. VIMS is among the largest marine research and education centers in the United States.

Meeting Information
Registration
You may register for one, two, or all three days of activities – see the schedule below. Members receive a registration fee discount.
Schedule
Friday, October 6
Edgehill Community Center, 700 Cockletown Rd, Yorktown
 4:00pm - 6:30pm
Reception & Happy Hour, Cash Bar
 6:30pm - 7:30pm
Buffet Dinner
 7:30pm
Presentation by John Townsend, Flora of Virginia Co-author and Senior Botanist, Natural Heritage Division, Virginia Department of Conservation and Recreation
Saturday, October 7
Morning
Virginia Institute of Marine Science, Watermen's Hall Visitor Center, 1370 Greate Road, Gloucester Point
 9:00am
Continental Breakfast & Field Trip Registration
 10:00am
Presentation by Karen Duhring, Marine Scientist, VIMS
 11:00am
VNPS Business Meeting & Elections - Nancy Vehrs, President
 11:45am
Pick up box lunches and proceed to afternoon Field Trips
Saturday, October 7
Afternoon & Evening
Various Locations
 Afternoon
View Field Trips
 5:00pm - 6:00pm
President's Reception, Comfort Inn, President's Suite, 16890 Warwick Blvd, Newport News
 6:00pm
Dinner on your own at local restaurants; form parties with fellow members & attendees
Sunday, October 8
Various Locations
 All day
View Field Trips & Safe Travels Home
Business Meeting & Elections
We will hold a Business Meeting and conduct an election of board members on Saturday at 11:00am at the VIMS Watermen's Hall Visitor Center.
View the 2023 Slate of Nominees for election to the Board of Directors.
Speakers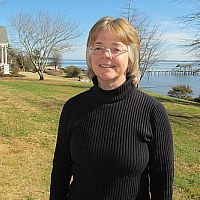 Karen Duhring is a Marine Scientist at VIMS whose research interests include the long-term effectiveness of "living shoreline" techniques for erosion protection, citizen science applications for shoreline monitoring and management, and effective coastal training and outreach communication methods. She won the VIMS Outstanding Faculty Outreach Award in 2021.
Karen helped develop the Virginia Master Naturalist and Master Gardner Shoreline Evaluation programs. These programs give coastal property owners guidelines for their shorelines, including recommendations for improving storm water management, reducing pollutant and sediment runoff, and controlling shoreline erosion. Karen was instrumental in developing the Living Shoreline Collaborative in the James River Basin, which works with regional and state partners to make shorelines more resilient throughout the James River watershed.
John Townsend is Senior Botanist with the Natural Heritage Division of the Virginia Department of Conservation and Recreation and has served on the VNPS board for many years. His work as part of the division's inventory team has focused primarily on rare vascular plants and their conservation. He was previously curator of the herbarium at Clemson University. As a co-author of the Flora of Virginia, his work included editing of taxonomic descriptions; editing of illustrations, ensuring that they accurately and truly depict key characters; and the provision of Virginia-specific information on status and habitat.
Field Trips (Updated September 21. 2023)
Field trips in the local area will be scheduled for Saturday afternoon and Sunday, October 7 and 8. More information will be available in the coming weeks and will be sent to all registrants.
SATURDAY, OCTOBER 7
Dragon Run. Johnny Townsend, Virginia DCR Natural Heritage Senior Botanist and Kevin Howe, VNPS Vice-President, and Board member of Friends of Dragon Run will lead a walk at Dragon Run near Saluda. This Bald Cypress-Tupelo Swamp Forest and watershed is a rare ecosystem in Virginia and about 25% is protected for conservation. There is little evidence of human presence and is arguably the most pristine water body in Virginia with 25% of the watershed conservation-protected.
Freedom Park Williamsburg. Enjoy a walk with well-known educator and botanist Donna Ware to see the Williamsburg Botanical Garden exhibiting hundreds of native species including examples of the Coastal Plain's seepage ravine flora – a group of mountain disjunct species. This 600-acre forested retreat features two miles of multiuse trails, including a one-mile ADA accessible paved trail as well as several botanically rich seepage ravines.
Grafton Ponds Natural Area Preserve. Virginia DCR Heritage Ecologist (Retired) Gary 

Fleming

 will lead a walk at Grafton Ponds Natural Area Preserve, which represents Virginia's best remaining example of a coastal plain pond complex. The many ponds here were formed by dissolution of the underlying calcareous marine deposits of the Yorktown Formation. This wetland complex supports several rare plants and animals for Virginia including Harper's fimbristylis (Fimbristylis perpusilla), pond spice (Litsea_aestivalis), Mabee's salamander (Ambystoma mabeei) and barking treefrog (Hyla gratiosa). 
Newport News Park. This 7,700 acre municipal park, one of the largest east of the Mississippi, offers a variety of trails through coastal forest, swamps, and more. Leader Meegan Wallace is an environmental consultant who conducts rare plant surveys, forest inventories, and invasive species mapping for the Department of Defense, which manages more than 25 million acres nationwide and supports more than 300 federally listed species.
VIMS Living Shoreline & Natural Marsh.  VIMS Marine Scientist Karen Duhring will lead a walk at VIMS in Gloucester to view this nature-based approach for shoreline protection. Learn how living shoreline techniques conserve, create, and help restore natural shoreline habitats and ecosystem services. These practices also reduce erosion, improve marine habitat and water quality, and filter stormwater runoff and groundwater.
SUNDAY, OCTOBER 8
Beaverdam Park.  This popular park in Gloucester includes 635-acre Beaverdam Lake and an abundance of native plant and animal wildlife.  The lake provides perches for osprey, herons, swallows, belted kingfisher, and other birds. Dragonflies and damselflies are common and butterflies are numerous. Join native plant enthusiast and Virginia Master Naturalist Edie Bradbury for a walking tour.
Dragon Run. Maeve Coeker and Kevin Howe, biologists and Board members of Friends of Dragon Run will lead a walking tour of this unique ecosystem. This Bald Cypress-Tupelo Swamp Forest and watershed is a rare ecosystem in Virginia and about 25% is protected for conservation. There is little evidence of human presence and may contain the most pristine water body in Virginia with 25% of the watershed conservation-protected.
Hickory Hollow Natural Area Preserve. Hickory Hollow's 254 acres of mixed pine-hardwood forest, ravines and Cabin Swamp form an important habitat for migratory songbirds, wild turkey and a rare plant. Cabin swamp is an exceptional quality wetland community that supports a very high diversity of plants including several mountain disjuncts. A globally rare Coastal Plain Basic Seepage Swamp is a natural community highlight of the preserve. Leader Betsy Washington is president of the Northern Neck Native Plant Society, and a well-known educator and author.
The Tides Inn. Tour the living shoreline restoration at Northern Neck's famous Tides Inn in Irvington on a walk led by Matt Little, local horticulturalist and landscape manager. The Tides Inn recently received the Governor's Environmental Excellence Award for this shoreline restoration project. This very large sustainable project on an estuarine creek demonstrates what can be done with shoreline native plants to protect the Bay. And they have a fabulous lunch spot, The Fish Hawk, with local seafood – that alone is worth the visit.
Accommodations
VNPS has reserved a discounted block of rooms at the Mulberry Inn and Comfort Inn in Newport News, VA. (Unfortunately, no hotels were available in Gloucester.)  Rates as follows:
Double Rooms (2 Queen Beds): $283.37 (total for two nights including taxes)
Single Rooms (King Bed): $293.14 (total for two nights including taxes)
Mulberry Inn Online Registration
Hotel contact for both facilities: Ms. Bobbie Reid, Director of Operations/Sales: Cell (804) 721-9453, qualityinnchester@gmail.com. 
Download
iCal
file