Our 2018 Fall Plant Sale will be on Saturday, May 19 and run from 9 a.m. to 3 p.m. Get your plant list ready!
The plant sales are held at our propagation beds across the driveway behind the Horticulture Center at Green Spring Gardens.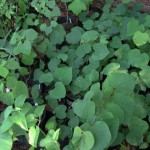 Our plants are all propagated from native stock. We have ferns, grasses, ground covers, perennials and woodies to choose from. The young Redbud Trees (Cercis canadensis) pictured at left are among the many plants we offer. It's an under story tree that's covered with pink flowers in spring and is of special value to native bees.
Prices range from $7.00 to $10.00 (more for a few larger plants). Cash or check only and VNPS members get a discount! We have experts on hand to answer questions and make suggestions. Come to buy or browse; we'd love to see you.
Click here to download a file containing pictures and descriptions of most of the plants we have for sale. It is a large .pdf file that is used to generate plant signs for our sales. Please be advised not every plant is available every year.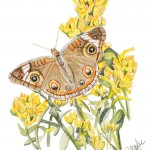 VNPS note cards are also available at our plant sales. Click here for more details.
Plants will also be available for sale from 10 a.m. to 1 p.m. on the first Wednesday of the month from April to October.